With a bit adjustment, UCP Fee Structure 2023 per semester for all programs like BBA MBA BSCS Engineering d pharmacy in University of Central Punjab Lahore has implemented. Now time is flying away when one face too many difficulties in finding an institute for high education. In past, only a few universities were working in Pakistan. Now, this sector is constantly progressing, and a list of institute provides educational facilities. Among these, University of Central Punjab Lahore is a trusty name that contributed too much to business and engineering sectors. During 2023 the UCP Fee Structure is changing for BBA MBA BSCS and Engineering programs. So before applying to this one must need to have enough info that one can afford it fees.
UCP Fee Structure 2023 Per Semester:
As per the UCP Fee Structure 2023 per semester, its admission dues, tuition fees are different for every program. This time they add more money to this structure may be an improvement in their ranking is the reason behind this addition.
If one reviews the establishment of this University then they start work from business administration department. At that time they get a handsome strength of prepared student's nursery from their college. Over the time, they introduce a couple of engineering programs. And currently, they are offering a list of courses. One can say that the secret to making the biggest platform is their consistency. They never compromise on standards.
University of Central Punjab Fee Structure 2023 for BBA MBA BSCS and Engineering:
Of all major departments, University of Central Punjab fee structure 2023 has these few major courses for BBA MBA BSCS and engineering. Their graduates have value in the market, that why this is the best choice.
Now they properly focused on search work, if they proceed in the right way then surely their ranking will improve in upcoming days. Their approximate fee table is:
| | | |
| --- | --- | --- |
| Program | UCP Per Semester Fee | Total Fee |
| UCP BBA Fee Structure 2023 | 182,250 Rupeed | 14,90,000 Rupees |
| UCP MBA Fee Structure |  105,250 | 429,000 (After BBA) |
| UCP BSCS Fee  Structure | 201,550 | 16,20,500 |
| UCP BS Electrical Engineering Fee | 192,000 | 1,415,500 |
| BSc Mechanical Engineering | 203,560 | 1,644,500 |
| BSc Civil Engineering | 208,000 | 1,686,900 |
| MSc Electrical Engineering | 97,000 | 384,000 |
| MSc Mechanical Engineering | 98,500 | 386,000 |
Note: The above are approximate figures that must close to exact one, in order to get very accurate info visit the main campus. Or contact one below numbers. An additional 20,000 Rupees also added in the first Semester.
University of Central Punjab Lahore Current Structure for Fee in 2023: call on below contacts.
 Phone Number: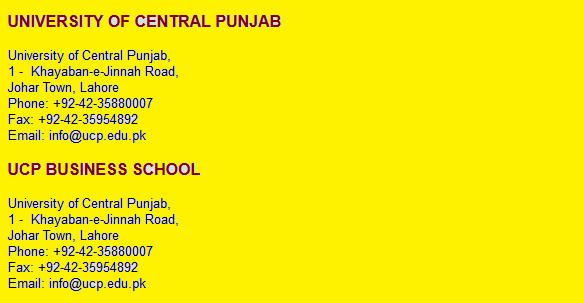 Above contact Info Courtesy: Official website of University
Going back to the original discussion that is all about fee structure of UCP in 2023, then no doubt this is going out of range from below middle class. One never has any question about their educational standards, but it does not mean that they charge such huge amount of money. Once again poor people will affect too much.
For this, they also announce some scholarships, but it's really difficult to meet their eligibility criteria. Till this is good for a selected number of students that get benefits from it. Hope so official will thinks about UCP fee structure 2023 per semester and reduce it a little bit. Along with this if one afford it then sure this is the best place to make your future secure one.