Property tax is necessary to pay within time according to the constitution of the Islamic Republic of Pakistan. Every person who has some property whether it is in the form of commercial or in the form of agriculture land. So with the different amount of property, there is different percentage %age of tax. When people give tax then faced so many difficulties. They used to visit offices of the department of taxation. Its become so many problems for aged people as well. But originally, this money is the backbone of the nation. Because all welfare works of society will depend on them. A further budget of every year is also depending on this amount. So, as a national of this country its need that everyone will deposit this amount.
So Punjab Govt which is headed by the chief minister of Punjab Mian Shahbaz Shareef is going to introduce a new technology-based calculator which can calculate the amount of tax easily. This invention of the calculator is so far helpful for those people who really facing so many problems when want to pay tax.
Online Property Tax Calculator in Punjab excise-punjab.gov.pk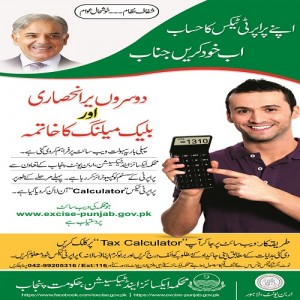 So in this way, most of the people will give tax and the trend of giving tax will increase.
In this way, our economy will increase and Pakistan will progress because if we look around the world we will come to know that the countries which are developed countries. They have developed countries because of a high rate of paying tax. People in those countries used to pay property tax on time. There is no one who is the defaulter in those countries.
So it's a good step taken by the Punjab govt and it should be appreciated. Other provinces of Pakistan should also follow this service for their people as well
In this way, Pakistan will become a progressive country. And in this way, more people will give tax on time. This is a new technology invention because before this no one takes this step in this area. Hopefully, one will aware of its importance.