Ultimately, the Orange Line Metro Train Lahore route map also the the station detail, schedule and timetable of train is also final. So, now Lahoris can travel on it in a comfortable environment and also save their times and money too. Of course, through this project number of passengers travel from one place to their destination. This must save time; as well with traffic rush on road is also going minimum. Most important is its quality of construction, government tries to make sure that all work will done according to international standards. For this full modern designed stations are finalized in map, as well alternate electricity source is also given through solar energy.
With all of this a third party audits this project to make sure the transparency. If it will complete in given period of time then sure it is game changer for this government. If one overview its completion time then all planning and initial work is starting in 2015, but on ground major work was started in 2016. And now in 2021 its on the track.
Orange Line Metro Train Lahore Route Map:
In the Orange Line Metro Train Lahore Route Map, authorities are trying to cover the area where local transportation is a big issue. Hopefully, this will facilitate million of people.
Underground Portion: 1.7 Kilometer
At Upper then Normal Position: 24.3 Kilometer
Total Route Area: 27 Kilometer
Completion of this project is not easy in this period of time, because during construction number of obstacles will come. Especially during underground construction this problem will arise, mean while LDA and other government official claims that they had finalizing the all preparation to tackle such problems.
Orange Line Metro Train Lahore Timing:
As per the timing of Orange Line Metro Train Lahore, this service is starting right at 7:30 AM and continue till 8:30 PM. Meanwhile, hopefully this timetable will also revise soon.
Orange Line Metro Train Lahore Station Number: 26 and among them 2 are also underground
"Route Map"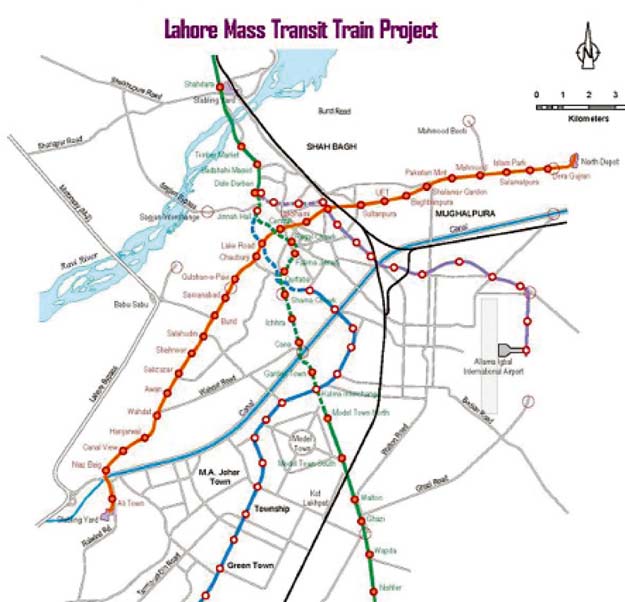 Start Station: Ali Town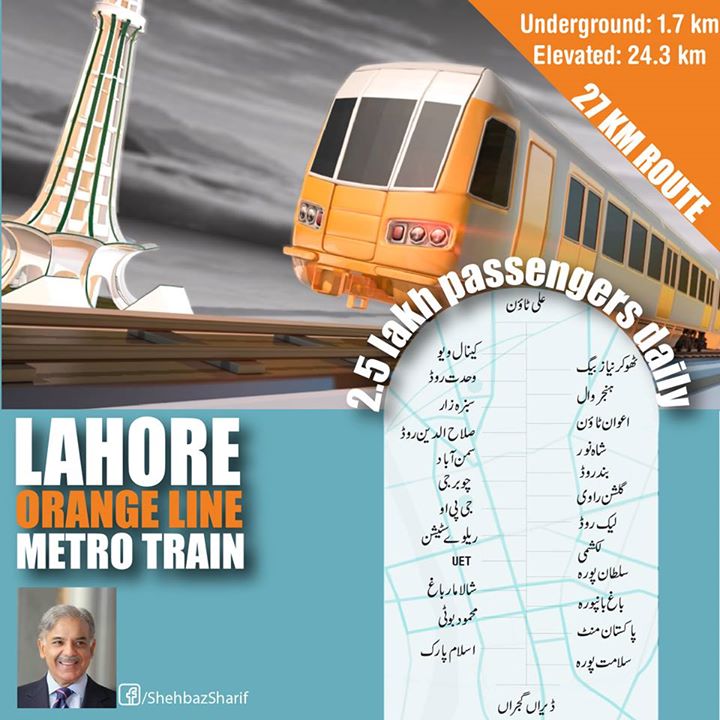 Stations on One End:
Thokar Naiz Beg
Awan Town
Shah Noor
Band Road
Gulshan e Ravi
Leak Road
Lakshami
Sultam Pura
Bag ban Pura
Pakistan Minute
Salam Pura
Stations on Second End:
Canal Road
Wahdat Roas
Sabza Zar
Salu hu din
Samnabad
Chubragi
GPO
Railway Station
UET
Shalamar Bag
Mahood Boti
Islam Park
Last Stop: Dera Gujran
"Second Map"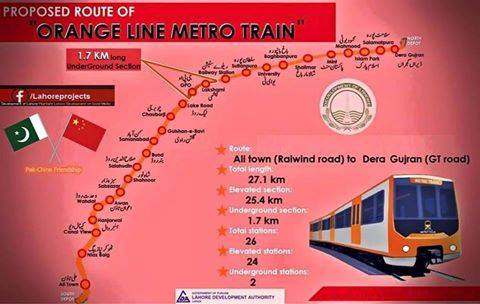 This time as government face a strong opponent in shape or PMLN and PPPP. In next election this project must help them to show success in their time. This Orange Line Metro Train Lahore is not for this city, its schedule or timetable is finalized according to such plan that passengers from all over the Pakistan travels through it.