Registration method and how to get passes of Pakistan Ramzan Amir Liaquat Show 2014 that on air on Express TV at time of Sehar and Iftar. This is first Ramadan program that is host by Aamir Liaquat Hussian at express channel. The month of Ramadan is full of blessings and we thankful to Allah for giving us a great month in our lives. During the Muslims all over the world abstain from food, drink and other such types of foods and other physical activities during daylight hours. In the month of blessing media has been thought about to provides the specials transmission for Pakistani's. The Express TV channel has been launched the program in the month of Ramadan "Pakistan Ramzan" with the great host Dr Aamir Liaquat Hussain. He is starting first program related to special Ramadan transmission on Express TV channel after the switch from Geo news. Dr Aamir Liaquat is a great man who always remains active during Ramadan with the special transmission and provides us very informative things related to our religion and Ramadan. His all programs are not only popular in Pakistan but also in the World. In this special transmission starts for all Pakistani's especially for senior citizen of Pakistan and for those keep fast in this holy month.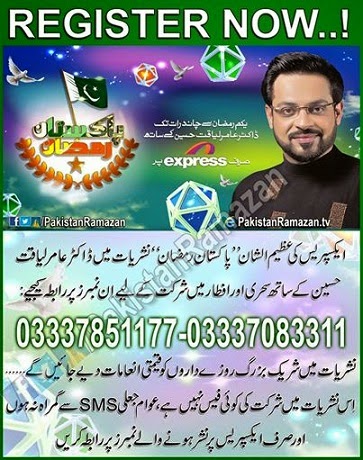 Numbers for Registration:
Facebook address:
https://www.facebook.com/PakistanRamazan
This special transmission is starting at the time of Sehri and Iftar only on express TV channel. Registration will be start for the special transmission and anyone wants to get register just dial 0333-7851177 and 0333-7083311. You are maybe getting passes after the registration and make quick call from your numbers from all over the Pakistan for registration. There is no registration fee for this program. In this program given special gifts and prize for senior Pakistani's and whose keeps fast and participate in this program. So don't waste your time because it's only time to participate in this program and talk with Dr. Aamir Liaqat in this holy month.