Details about Shahbaz Sharif Laptop Scheme 2014 for Matric DAE Evening Morning Students Teachers is given there. Now a days the without computer unman being can not do anything. Computer is a main need for all peoples weather  they are students, business man, children and any category , they use computer for studies, playing games and do research through computer. So we can say that with out computer people can not  survive in this world now.
So keep this thing in mind shahbaz Sharif the chief minister of Punjab decided to give laptops for the brilliant students of the universities last years. And this scheme became so popular so now Punjab Govt decided to start this scheme for higher school students. Because  they can also play an important role in the development of Pakistan. If we take an example of this stage students we will come to know that 2 or 3 people made record in A level classes. Se we can say that the students of this stage can also take part in the development of Pakistan.
Now if we go back when Punjab Govt started its laptop scheme for universities students we will come to know that it requires some criteria. Students who took marks greater then 60 % were eligible for this scheme. Now the criteria for metric students. The total laptops which have to be distributed is 100000 and the students who got 60% in annual exam are eligible for this scheme.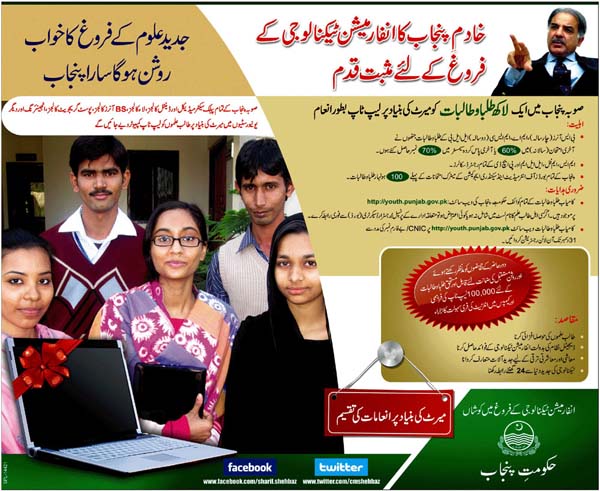 The top students of the metric exam will be eligible for the laptops in the Punjab province. And 40 laptops are for other board toppers like AJK, sindh, KPK and Baluchistan.
4000 laptops are also for intermediate students in the 2014 scheme. So the students of intermediate do not worry about this. So it is a good initiative taken by the POunjab Govt for all classes students.
Eligibility Criteria:
Students must have marks greater then 60 % for annual systems exam and 70 % for semester systems exam
These laptops are for all kind of students like metric, Fsc and bachelor level and master level students.
The students who already took laptops are not eligibility for this scheme.