A discounted rate list of Utility Stores Ramzan package 2019 has revealed on 2 May. No doubt, there is an unlimited number of blessings for these very special days of Ramadan. If a Muslim identifies them and comprehends their significance then he/she always wishes to have this holy month throughout the year. As Pakistan come into existence with the name of Islam that why its responsibility of rulers that they announce some special kind of offers for this month. For this, from last many years they reduce the prices of the different product under a specified platform.
Surely, Ramadan is special in every year and it's a time for Muslims for inner reflection, devotions to Allah and Self control. This is third pillar and obligation of Islam. During entire days Muslims keep fasting for Allah. When this is coming every year all the worlds provide specials subsidies on all things for Muslims.
Now the Government of Pakistan also announced that a comprehensive system of monitoring of price during the holy month had been devised and a cabinet committee was constituted to check rates on a daily basis.
In 2019 our Government announced up to 15% subsidy on the total price which applied from Ist Ramazan. Relief package applied on 19 items of daily usage. This relief is only for these specific days that remain valid till Chand Rat.
Utility Stores Ramzan Package 2019:
Hopefully, thousands of people can get benefit from the Utility Stores Ramzan package 2019 that is clear from the rate list.
Utility Stores Ramzan Rate List:
This is the new rate list for this year. So, must take benefit from it.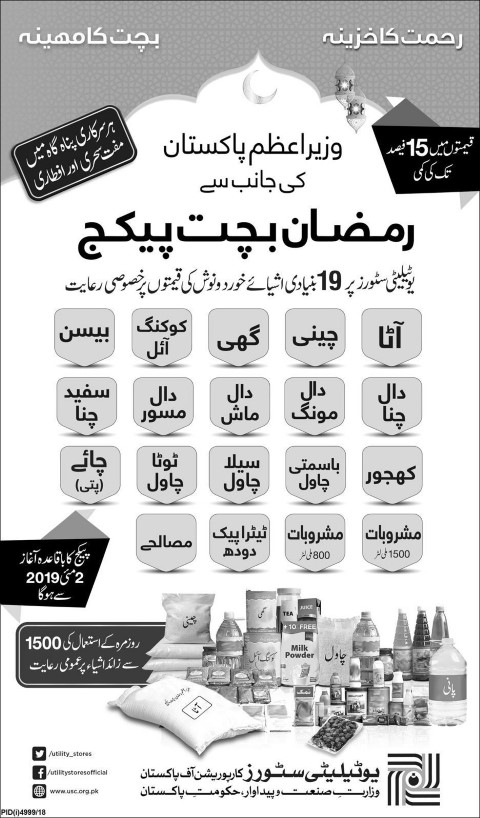 This is latest Updated Plan…
The items on which this package will apply are floor, sugar, rice, dates, daal, cooking oil, ghee, gram flour, and other daily use products. Meanwhile, rates of about 1500 item will also reduce minorly.
These offers are useful, reliable and excellent for people of this country because people cannot afford such types of thing at a high price. Basically, the purpose of USC to provides the all necessary thing or daily usage with low and as much can possible prize and also the expansion of the network of this offer in all over Pakistan. Although this reduces at prices are for the limited product but their results must go to the public. This is the entire info of the Utility Stores Ramzan package 2019 through which an ordinary person can get the benefit.