This post is specially written for brides who want to know about the tips for bridal eye makeup. Bridal makeup is incomplete without perfect eye makeup. Perfect and beautiful eye makeup will make every bride more beautiful and gorgeous on her special day. Eye makeup is considered to be the most important part of bridal makeup. Here we will discuss best tips for bridal eye makeup. The best and simple tips are as follows:
Tips For Bridal Eye Makeup: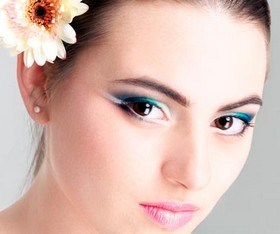 The most important and significant tip for bridal eye makeup is that bride should take advice from her eye makeup artist about her eye makeup. Bridal eye makeup holds great important in the whole bridal makeup so it requires complete and diligent consideration.
Another main tip for bridal eye makeup is that bride should be very sparing while selecting the eye makeup. Choosing wrong colors will surely overdo the whole eye makeup job.
Thirdly, it is important that brides should follow proper steps and techniques for applying the eye makeup.
Before applying the makeup on eyes, brides should prime their eyes for creating the clear canvas for the eye makeup. Bride should use the foundation according to her eye skin. So brides should not overdo their foundation while trying to avoid dark circles.
Lastly, brides should choose perfect eye shadow for their eye makeup. The eye shadow should complement her bridal dress. It is advisable that brides should choose black eye liner for define her eyes along with black mascara.
So these are considered to be important tips for bridal eye makeup. We hope that after applying these tips every bride will surely apply perfect and ideal makeup. So those brides who are getting married in next few months and they want to look stunning on their special day so they should give special attention and important to their eye makeup.