In this modern age, English being an international language has become inevitable to be successful in almost every field of life. For learning Online Spoken English Course in Urdu Free Download must helps one in speaking. The fluent verbal skills in spoken English have become the symbol of highly educated superior personality. Those who do not know how to speak English fluently and correctly are less confident and feel themselves to be inferior among the English speakers. Are you one of them? If so, it is not hard to learn English speech as long as you put in your sincere effort to learn it. The key to improvement is practice as practice makes a man perfect. So, to have a full command over spoken English, you have to read these tips and tricks and follow them with full confidence to become eloquent and fluent in English speech.
Some best Tips for Spoken English to Follow that must help one in Speaking:
Though it takes time to break the routine but you have to think in English not in your native language as you do earlier. The trick to a habit of thinking in English is that start speaking in English to you. Whatever is in your mind just speak it out in English. Do not translate word to word from your native English. Just have an abrupt talk with yourself about thing you do throughout day or about the things to do in the coming days.
Make a habit of reading simple English stories, magazine or newspaper. You can also watch English movies to know the correct expression. Reading will improve your vocabulary and you will not have to translate from your native language after the improvement of your English vocabulary.
Be confident to speak in English at every available opportunity. It may sound imperfect in the beginning but after having communion with an English speaker for few times, you will find that now you can speak better. so, it is also an game of confidence. Do not hesitate in the beginning to have fluency in future.
To know the correct accent and pronunciation, You should listen carefully the English speakers, either on radio, T.V, theatre, movie or debate. You cannot improve your pronunciation and accent by just reading. You have to come in direct contact with the spoken words.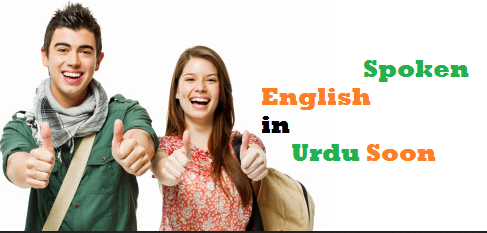 Work is in Progress on Online Spoken English Course in Urdu as this is complete it will must available here for Free Download.