Here we will represent latest and exclusive Ghani textiles spring summer collection 2013 for women. Ghani textiles is considered to be popular and well known name in the field of Pakistani textiles. It offers textiles for women and young girls. This textile mill was founded some years back. It is the textile mill that offers beautiful and unique fabrics. Basically, Ghani textiles is considered to be popular and renowned manufacturer, wholesaler and retailer of beautiful fabrics. All the fabrics provided by Ghani Textiles are made from high quality. Every year, Ghani textiles showcased winter and summer collections for women.
Ghani Textiles Spring Summer Collection 2013 For Women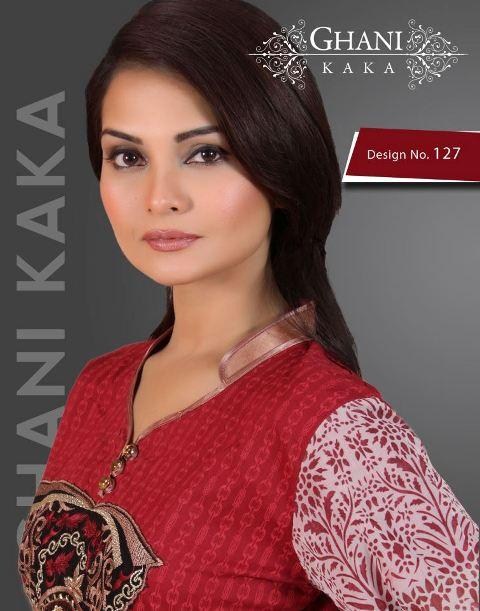 Recently, Ghani Textiles launched latest and exclusive spring summer collection 2013 for women. This spring summer collection 2013 includes beautiful and elegant three piece suits. All the shirts in this collection are prints and embroidered. In this spring summer collection, trousers are plain and dupattas are printed. In this beautiful collection, Ghani textiles used traditional designs.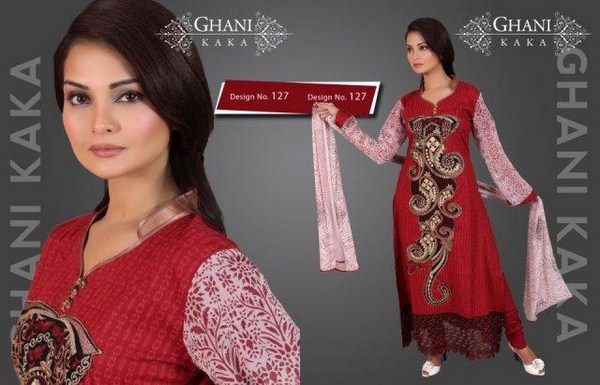 Moreover, this collection has been specially designed for spring summer season. In order to make stylish and elegant dresses for spring season, women should check out Ghani Textiles spring summer collection 2013 for women. We are presenting the few pictures of Ghani textiles spring summer collection 2013 for women. The fabrics of Ghani textiles include beautiful and unique designs which make this collection more attractive for women. As we know that the previous collections of Ghani textiles gained huge popularity among women. The last thing we would like to mention that Ghani textiles used high quality and perfect fabric material in all spring dresses. In order to see the complete spring summer collection 2013, women should visit the face book fan page of Ghani textiles. The link is given below:
Facebook Fan Page
Furthermore, Ghani textiles used bright and dark colors in all spring summer dresses such as red, maroon, blue etc. In the final conclusion we can say that Ghani textiles spring summer collection 2013 is elegant, beautiful and decent. Women and young girls can wear these three piece suits in their summer days. Finally, we can say that Pakistani women and girls will surely like this collection for spring season. So if you want to buy beautiful and unique prints for your spring summer season then you should buy Ghani textiles collection. We hope that these spring summer dresses by Ghani textiles will make every woman more beautiful and gorgeous.