Eid dresses are always enriched with ethnicity because of the traditional touch in it, due to this Pakistani designers are liked to bring into include some new designs in their latest collection during 2016. All these special outfits make women crazy. At present, number of fashion houses are established which introduces the latest trends with the passage of time. In fact they are acting as an ambassador for fashion world. It promotes as well facilitate people of Pakistan with the latest trends and with the upcoming fashion.
Everyone likes to have stylish dresses so that they look in the ethnic outfit. The best thing about these dresses is that they are liked and suitable for all age women. Now they have gained popularity at an international level due to their unique styles, designs and cuts. These are enriched with bold and shimmery colors.
1: Gowns are very trendy in these collections. Various type of gowns are in style, like ball gowns, V shaped gowns, open gown. Thus you have multiple choices with them. For instance you can pair long length gown with the long maxi.
2: Next best outfit to wear is the floor length maxi or gowns give a unique and stylish look at occasions.
3: Now in recent period of time simple kind of lehnga can be paired long shirt at the traditional eves.
4: Full heavy embroidered short shirt with the short gowns seems so elegant at this occasion. While one can also combined it with the straight trousers.
5: Anarkali frocks are good option to wear at this festival. They are always remains in fashion so one can try them at any time.
6: Angrakha style gives a very traditional look at the traditional functions and works well for eid.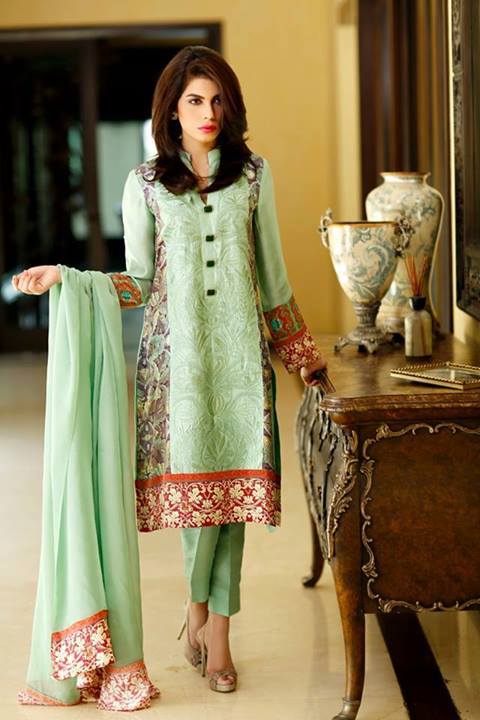 Top Designer who Launch Eid Collections:
 Simple Ideas:
These all are some fancy kind of outfits one can also tries some simple but stylish to. For this short shirt with the straight pant trousers look stylish and everyone will have a comfortable experience by wearing it and it is best for all women's.
One can be paired with the loose shalwar. This outfit will give a very traditional look.
While short shirt with same length gowns with the straights trouser will be best for super stylish look.
Long shirts are although not in style these days but one can be worn with the matching palazzos. With them one can also tries beautiful panel's shirt.
Shalwar and Kameez show the culture of Pakistan and most of the women like to wear them at this event.
Now-a-days girls are pairing Kurta with the pants at these special moments. Latest eid collection of Pakistani designers 2016 contain all these new designs that are discussing in above portion. They cover all the major demand of ladies as well they understand that which trends girls like to wear right now.