Have you ever thought that one day you will wake up early in morning for dressing up yourself in trendy new fashionable dress and suddenly you get to know that such fashion trend has been replaced by some other fresh trend? Well Pakistan fashion style statements have been kept on changing every day. The half sleeves has been turned into the long sleeves and short shirts have been taken the image of the A line shirts or the anarakali frocks. Anarkali frocks are also prominently known as panel frocks and these forms of the outfit are excessively getting renowned and famous amongst the women and young girls.  Frocks are not much new in the fashion universe as this trend has been quite popular few years back and we can just say that this trend has yet again knocked the fashion globe. Frocks are emerging in diverse styles and forms as many frocks have been cut down from the shoulders whereas many of them have been rounded shaped towards the end portion.
Latest Frocks Fashion In Pakistan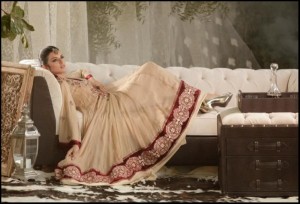 These frocks can simply look elegant and graceful just with the churidar pajamas. Frocks have even been introduced in the form of the long shirts that are edged ones from the ending side of the shirt. These can be perfectly alternated as the most suitable choice with the shalwar as well. All such frocks can even be made extra beautiful with the traditional stroke of the kohlapuri chappals and khussas. They can be suitable worn out as stylishly on all the formal parties and even the wedding functions but for the wedding happenings specially embellished and stone worked panel frocks are planned.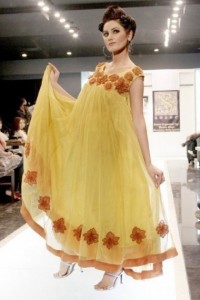 As we look the rates of the frocks then they normally ranges diversely by depending upon the style of the outfit. If the frock has been simple designed then the rates will started from Rs.2000 but if the frock has been embellished with the stone work and embroidery then its price will definitely begins from Rs.4000. Frocks can certainly make the women to come across with extra dashingly gorgeous attitude and looks more captivating more others. The colors introduced for the panel frocks are frequently bright and full of life.
On the whole all such women who have never try the frocks or anarkali dresses they must try it ones and we are sure that they will love to wear them again and again. Few pictures are given in order to check the latest frocks fashion in Pakistan.