This is best place from where one can find Pakistani Groom Dresses 2013. As we know that wedding day is considered to be exceptionally important and unforgettable day for both the bride and groom. Every single arrangement right from the beginning to the couples dressing everything needs to looks perfect and attention grabbing. When it comes to styling of the wedding couple then the bride seems to have abundant alternatives for the consultation in the form of fashion designers but unfortunately groom seems to look imperfect if he is not well dressed. Grooms are always in the search for such dresses that not only looks fashionable and chic but also gives the image of being cultural and traditional dress. And when it comes to the traditional outfits for grooms we never forget to mention the name of sherwani. Sherwani is a form of coat that is longer lasting till the knees. It is basically accompanied with churidar pajamas or a trouser. Many grooms prefer wearing such styles of dresses especially on their wedding. In the colors of Sherwani the most noticeable colors are red, maroon and golden. Although in the past the Sherwani was highlighted in just one mode of style but now it is widely represented in several forms due to the massive popularity among the men.
Pakistani Groom Dresses 2013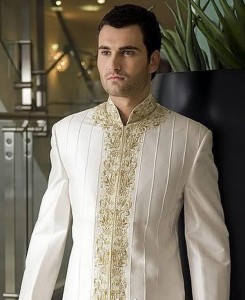 Additionally, when we consider the groom Mehndi dresses then according to our own historical culture the importance of white shalwar kameez and yellow dupatta cannot be denied but according to the newest fashion style statements groom should certainly favor the appearance of green outfit along with white dupatta around his neck. Moreover, sky blue and grey color can also be the suitable selection for the Mehndi occasions. Furthermore in viewing the groom fashion accessories then they keep themselves limited till a beautiful wrist watch and a stunning bracelet that would surely gives an extra addition to the personality of the groom. Apart from all such things the most prominent thing is the selection of the sherwani. Always try to go for the light and soft colored sherwani because it goes well suited for the groom such as blue, grey, black or red. In addition if the sherwani comprises a light color then the groom must gave an attention to the turban that is normally known as Kulla that is worn on the head for giving a royal look.
Pakistani Groom Dresses 2013 are given there..
So all the men if you are forthcoming groom then don't forget to consider the sherwani outfit and we are sure that you will definitely say awesome. Few pictures of Pakistani groom dresses 2013 are given above.