There would be no single women who don't have the utmost wish to embellish her hands with Mehndi designs. Mehndi is one of the most essential ingredients for the religious festivals and wedding ceremonies. Mehndi is a form of the henna that is reddish brown in color. As the festival or the wedding season arrives the huge sum of the mehndi designs starts emerging in the market and internet world. There are wide varieties of mehndi designs such as Arabic mehndi designs, Pakistani and Indian Mehndi designs. All such designs are much diverse from each other because some of them have the simple styles while other are complicated ones. These days in all the wedding ceremonies the trend of back hand side mehndi is getting increased common and it is strongly harvesting its roots in the fashion market.
Mehndi Designs For Back Hand Side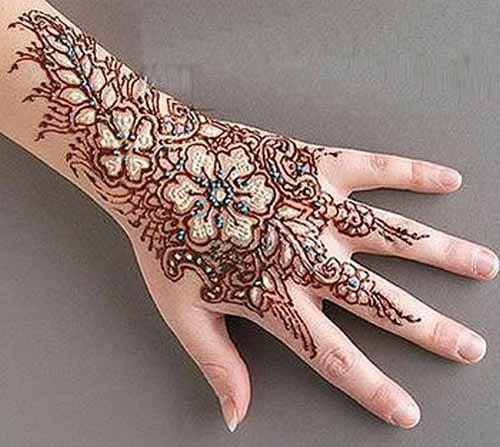 Almost all the brides are witnessed with the back hand mehndi styles because they assist the bride to give away the impression of looking much stunning and strikingly beautiful. However, there are many girls as well that favor applying such forms of mehndi on both sides of the hands but this would just make their hands appear as messy and untidy. In the back hand side Mehndi always make sure that if you are applying the Mehndi on the front side then don't make the mistake of applying on back side and if you prefer the back side then overlook the front side. In addition, both sides mehndi designs can just look stunning merely for the brides because they are aware from the fact that they are the center of attraction for their wedding day.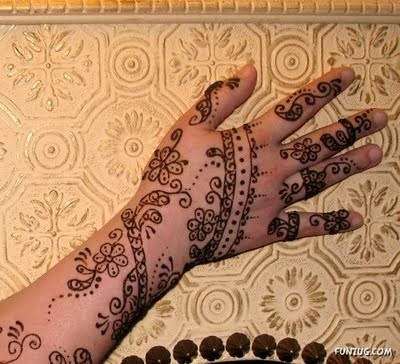 Moreover, there are many numerous websites that have been presently overflowing with huge sum of the back side Mehndi designs. Further such designs can even be made extra exciting and alluring by applying the addition of shimmering and glitters that would even put together the hands more catchy and attractive. Such designs can even be favored for the party timings and even on Eid as well and can be undertake by the Indians for Diwali and their other festivals.
So on the whole we would say that all such women and girls who have still not capture the taste of the back hand side Mehndi designs they must test it now and we are sure that they will start loving their hands even more. TRY IT NOW….