Wedding day is basically considered to be one of the exceptionally special and memorable days for any girl. She always desires to get herself embellished in perfect bridal outfit and decorate herself with dazzling ornaments. However, in this modern age as the fashion market is transforming into trendy and modern fashion era it is becoming quite possible for the brides to get their utmost desirable dress. As the wedding season arrives many fashion designers step forward and showcase their magnificent bridal outfits for the forthcoming brides. In addition, in Pakistan Bridal Couture Week is immensely getting popular among the girls and women as well. Let's have a brief overlook on some of the famous fashion bridal designers in fashion world and some of the most prominent bridal trends revolving in fashion universe.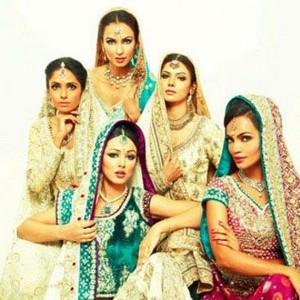 Bridal Outfit Designers of 2012:
                                                     In Pakistan fashion industry there are numerous well recognized fashion designers who highlight their bridal collection every week. Among them Nomi Ansari, HSY, Obaid Sheikh, Amir Baig and Sana Safinaz are some of those distinguished fashion designers who have always presented something fascinating and exclusively unique for the brides.
 Color Trends of Bridal Outfits:
                                                  As we know that Lehangas has always been one of the eminent symbols for the bride. No doubt that lehnagas are still the most significant dresses among the brides but according to fresh fashion style statement this form of outfit has been replaced by long shirts along with lehnagas. As the shirts are made delicately beautiful by adding the touch of impressive embroidery on it. And the dress is extra made striking by giving them bright and lively colors along with the addition of red color.
Mayon to Walima Bridal Outfit Trend 2012:
                                                                      As during the five days of constant events bride design special dresses for each day. As the yellow color is selected for the Mehndi events but now such color has been replaced by some of the bright colors that are also immensely used for the Mehndi happenings such as blue, green and red along with churridar pajamas and long shirts or frocks.
Bridal Outfit Trend 2012 for Walima:
                                                           For the events of Walima bride usually selects light and vibrant colors such as green, blue and yellow. On the other hand grooms prefer to wear sherwani along with churridar pajamas that are especially design for men.    
On the whole the above mentioned bridal trends would have surely help many brides to have a suitable and perfect idea for their wedding.