Topic here we discuss is Pink Studios EID UL AZHA Footwear Collection 2013 for Women. Pink studio is most popular and well known foot wear fashion brand in Pakistan .This brand has made their unique image on the fashion planet of Pakistan few years ago and was established in year 2010.This brand offers in their collection of beautiful foot wear for girls and women in reason prices. You can use their foot wear collection on different occasion like EID, wedding parties, evening get together parties so on and use casual wear and formal wear. Pink studio embellished their foot wear collection with colorful stones and beads and through this embroidery their collection looking so elegant and gorgeous. Recently this brand offers their new EID UL AZHA foot wears collection 2013 for women.
Pink Studios EID UL AZHA Footwear Collection 2013 for Women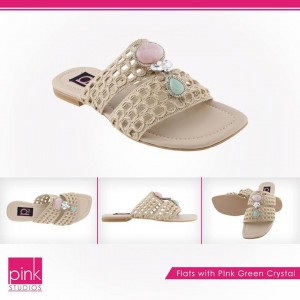 Pink studios EID UL AZHA foot wear collection 2013 for women is given there..
The owners of this brand are two sisters named Anila Iqbal and Rubina Iqbal.Their foot wear collection are available in different style like formal wear, casual wear along with the semi formal wear as well. So this is a place where you can find out complete details about this newest Eid ul Azha footwear collection 2013 by Pink Studio. This popular brand embellished their foot wear collection with high quality of colorful or simple stones and beads. With this embellishment their foot wear collection is looking glamour's and stunning. This brand high light their collection use with different prints like Cheetah prine with champagne brooch, beige flats with golden chain ,desi transformers khusssas ,velvet flats with crystal brooch and many more. The color combination is bright like ferozi, golden, yellow, black and many more.