Majority of Pakistanis are food lover that never miss good taste, for this they always in search of tips that help to cook some quality taste. Here tips that must helps one to cook Chicken Nuggets Recipe by two top chef Zakir and Rahat, they must give taste like Mcdonalds. One must enjoys the taste at home by follow these simple tips at home. Further cooking always needs practice so if one is fail to get right taste then try it again; hope so you get required taste in this second attempt. Starts from major ingredients with quantity; then moving the process to cook this recipe.
Ingredients:
Take Chicken One KG
According to requirement Salt
Garlic that is Crushed Take One Tea Spoon
White Chilli Take One and Half Tea Spoon
Vinegar Two to Three Tea Spoon
Soos Two Tea Spoon
In order to get Mixture that Cover Nugets:
Take Meda (White Floor) One Cup
Corn Flour Half Cup
According to Taste Take Salt
White Chili Take Half Tea Spoon
White Part of Two Eggs
Cooking Oil in which Chicken Nuggets Dip Easily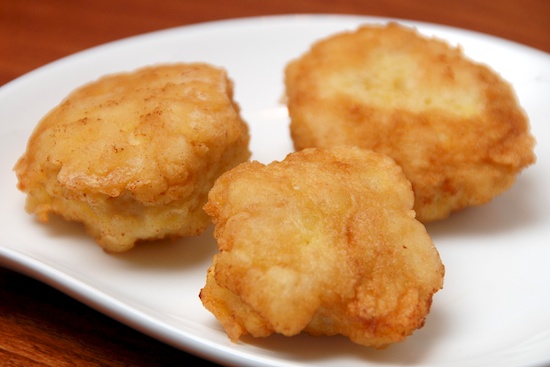 Starts from the preparation of Chicken, for this initially mix the start list of ingredients and paste it on the chicken. After this put this pasted chicken in fridge for one hour.
After this process of start of making mixture that is make up by mixing second list of ingredients.
As this mixture is ready dip the chicken in this paste and take it in fridge.
After this cooking process is going to start, for this take oil to heat for three to five minutes. After heating up of oil fry these nuggets. As color is change of these nuggets take them out at tissues. Hopefully one must get best taste , these Chicken Nuggets Recipe is by Chef Zakir and Rahat that cook like Mcdonalds, process in urdu is also updated soon.