Here we will discuss Pakistani fruit custard recipe in Urdu. Apart from recipe in Urdu, we will also discuss the fruit custard recipe in English as well. Almost every age of person especially children would love to eat delicious and tasty fruit custard. Every house wife knows that how to make fruit custard recipe in a perfect way. In this post, we will discuss the main ingredients and method for making the fruit custard recipe. The preparation time for making this recipe is 25 minutes and serving is for 5 people.
Pakistani Fruit Custard Recipe In Urdu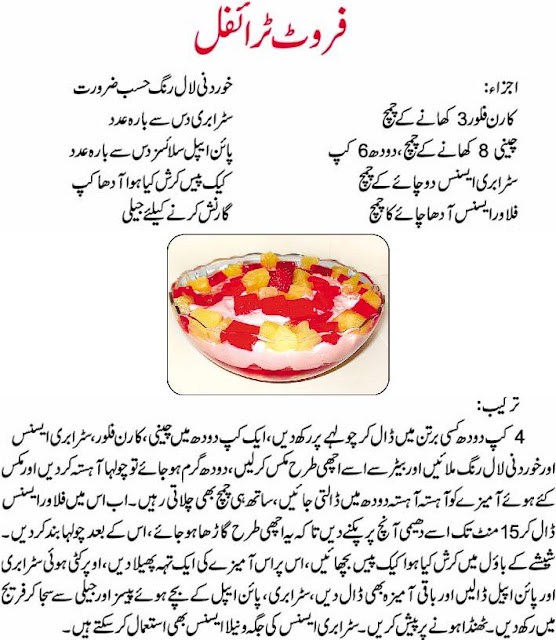 Ingredients:
The main ingredients for making the Pakistani fruit custard recipe are as follows:
3 tablespoons of vanilla custard powder.
2 cups of milk.
4 half tablespoons of sugar.
Small melon.
1 cup of fresh cream.
2 tablespoons of crush strawberry.
1 sliced banana.
2 tablespoon of pomegranate pearls.
2 peeled chikoos.
1 peeled of kiwi fruit.
8 washed black grapes.
Method:
Now we would like to explain the method for making Pakistani fruit custard recipe. The main directions are as follows:
The first step for making fruit custard recipe is that you should whisk custard powder and milk in the perfect way and then cook on high heat.
The second step is that you should add at least 3 tablespoons of sugar and then cook so that there are no lumps.
The next step is that you should take off from the heat and then allow to cool.
Afterwards, you should remove scoops of melon by using the parisienne scoop.
Moreover, you should whip the cream with half tablespoon of sugar.
Now, you should add the whipped cream for topping and then mix well.
Now the next step is that you should add strawberry crush and then mix well. Now take a mouthed glass and add some fruits.
The last step is that you should pipe the custard mixture until the glass gets full. Now you should arrange melon scoops and fruits over the custard.
Lastly, you should pipe the whipped cream over the top and then serve quickly.
So these are considered to be main directions for making Pakistani fruit custard. So all mothers who are sitting at their home should try this recipe for making tasty and delicious fruit custard.