On the services of cash withdrawal, a new Withholding tax rates in Pakistan 2022 is in proceeding. At the present time usually, people in Pakistan are well aware of this Tax.  It is for the guidance that it is a kind of income tax that is applicable by using various types of bank services. It is different for filers and non-filers. Usually, this money goes to the government, from the customer side. In easy words, we can say that this has been levied on income on all of the securities that have been owned by a filer and nonfiler.
If we want to see our current and future financial health forecast, then this withholding tax plays an important role in any country. In Pakistan, we define these taxes as a kind of act of deduction. This all is because of an unstable government.
It is seen that this has now become a global and countrywide phenomenon. Especially in Pakistan, it has now become one of the major and vital sources of the Federal revenue collected. It has been noticed that Pakistan is in the war state so the dependence on Withholding Taxes has been on the rise over the years. The government has also come up with an organization so that they can monitor and also manage the system.
Withholding Tax Rates in Pakistan 2022:
The previous Withholding tax rates in Pakistan has given in the following chart but not sure that 2022 how much changing govt will do in it.
Importance:
These Withholding charges have their own adjustable and also presumptive nature. They have now become a part of our tax system.
It is beneficial for the government because these let them provide revenue regularly for its expenditure and also for its operations.
These are also helpful for the taxpayers because they give them this opportunity to discharge all of their obligations in some manageable kinds of installments.
It is one of the most effective mechanisms to have the on-time source of total income. So far these taxes have the maximum contribution of total direct tax revenues.
Withholding Tax Rate on Cash Withdrawal in Pakistan 2022:
A table of the withholding tax rate on cash withdrawal in Pakistan that was revealed at the end of last year is clear in underneath table. Hopefully, soon a new chart of 2022 will also declare online.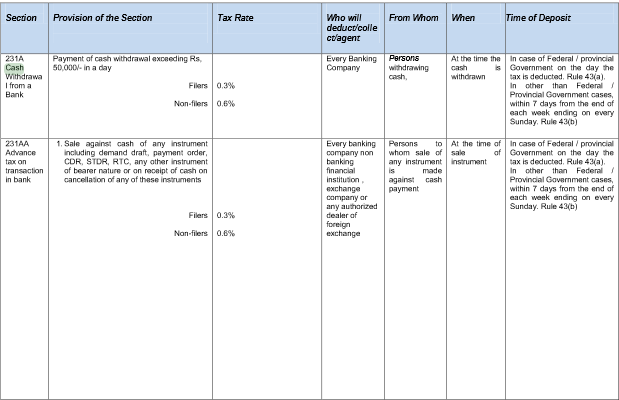 Currently, we have a massive reliance on this system because it gives the best results. We need to update policies, in which alignment is the most important thing. Although for every country withholding tax are too much important but at the same time its important for a government that they must be concerned with most effective community, like before increasing rates on cash withdrawal services in 2022 it's important that govt concerned with Pakistan traders because they affected more than anyone else. Furthermore, on Cash Withdrawal the withholding tax rates in Pakistan 2022 will surely reduce the transactions.