BOL is coming soon a news channel that becomes so famous among the people of Pakistan because a lot of next top anchors who can join this TV network and also already joined some senior anchors. Basically this network is Karachi based media that provides the 24-hours news with BOL TV news channel. BOL aims to bring the positive revolution in electronic media and changes the thinking way of Pakistani people and the vision of BOL to provide the entertainment with respect to news, digital media, print media, movies, cinemas and radio. There are so many anchors join this TV because the CEO of this tv network Mr. Shoaib Ahmed committed to serve the nation in great manner and promoted their tradition and culture is positive respect and better image against the world. Kamran Khan becomes chief editor and also Waseem Badami and Iftikahr Ahmed of Geo news already join BOL TV channel. This tv Chanel network has offers extra ordinary salary packages to the anchors and having great vision as compare to other electronic media in the market. So next top anchors that are having great valued join BOL TV due to excellent package and advanced methods of broadcasting in all over Pakistan.
Click Here to Check Original Owner Name of BOL TV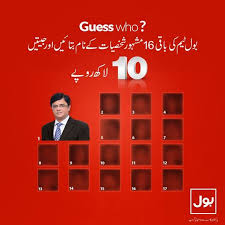 Top Anchors who can join BOL TV network are:
Shahzeb Khanzada Expressnews.
Zahid Mazhar Director (News) Dawn News.
Mubashir Lucman ARY news.
Talat Hussain Express news.
Shahid Massod News one.
Jasmine Manzor Sama News.
Sana Bucha Dunya News.
Najam Sethi Geo News.
Amir Liaquat Express news.
Asma Shirazi.
Shahista Lohdi.
Ayesha Bukhsh.
Sidra Iqbal.
These all expected Anchors or celebrities with some more personality's that are joining upcoming BOL TV network must create a great hype. This is due to switched these media personalities from other grand house that must put great competition. This is challenge for other media channels but BOL network bring true change in Pakistan through electronic media.