In the subcontinent, shalwar kameez styles are considering as graceful dresses for the women and girls. Recently, ladies Shalwar Kameez design 2019 has been widely introduced in different styles and forms including the simple ones that are normally worn in the daily lifestyle whereas some embroidered and stylish style have also been highlighted that are also exceptionally demanded the formal parties and wedding happenings as well. However, when we talk about the clothing sections of this outfit then it mostly comprises shalwar, kameez, and dupatta. Kameez is basically known as the shirt has been put forward in different sizes too. Ever since the concept of Shalwar Kameez has been introduced the sizes of the shirt sometimes gets short and most of the times it gets long.
The embellishment of embroidery on the front section of the shirt if highly considered by the women. Both handmade and stone works are widely in use these days.
When we consider today fashion style then we mostly see in the markets that women are wearing long shirts till the knees that are also a famous trend among the women as well.
Ladies Shalwar Kameez Design 2019
Check them out from the beneath pictures gallery.
Additionally, comes the Shalwar and dupatta. Likewise kameez, the shalwar has also been replaced many times by different forms. In the past, the shalwar used to be loose ones that mostly named as Patiala Shalwar.
But now this form has been turned into the name of trousers and capris that are long and loose too. Many new combinations of this outfit make it very special. Even, now ladies in western countries also like to wear this kind of dresses.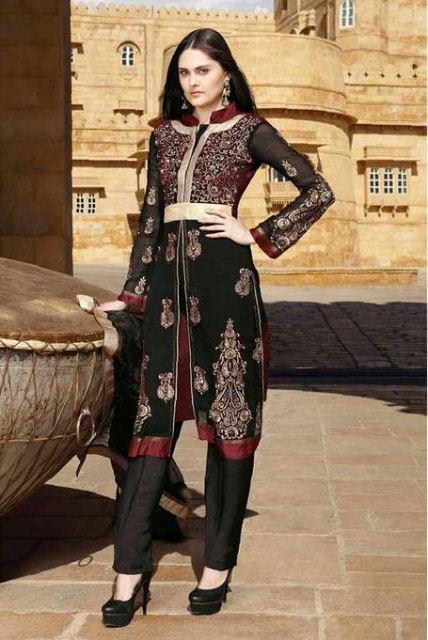 Most of the girls favor wearing long shirts with trousers and churidar pajamas. In this writing, we are sharing few striking pictures of latest Shalwar Kameez trends and designs 2019. Finally, the dupatta is the most prominent ingredient in this wearing outfit. It is worn around the neck or for covering the head as well.
Many famous Pakistani fashion designers often beautify their dupattas with fancy touch and embroidery taste as well. Some of the dupattas also include the embroidery work on its borders that further make the whole outfit even more stunning and gorgeous. So all those girls who are crazy about shalwar kameez should view the newest designs and we are sure that you will stop blinking your eyes. We are completely sure that young girls will definitely like the designs of above gallery because they all are best.