To maintain the previous history that CM of Punjab is a CM of poor's Government of Punjab is going to take another good initiative for the people of Punjab. Government of Punjab is going to introduce a scheme named as Khidmat Card to the poor people of Punjab. The basic aim behind this is to give some relation in the form of subsidies. Chief Minister of Punjab mian shahbaz Sharif told media two days ago. He further said that this scheme will be open soon and it will be purely for poor people and these subsidies will be given on pure merit base.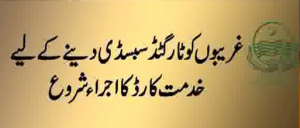 As this program is in initial stage so one just need for a period of time as soon as possible implementations are start application form are available here for download.
This scheme is just like the other scheme of subsides like Benazir income support program and qarze hasana scheme and loan scheme.
It is hopefully that the committee will submits its recommendation regarding this scheme on the front of chief minister of Punjab shahabaz Sharif and CM will give the approval of this scheme soon.
So the poor people are happy on this scheme because they will get money from the Government of Punjab. So in my point of view this is a best initiative taken by The Government of Punjab.