In Pakistan, we have noticed that the demand for Metro motorcycle is sloping higher day by day. People are purchasing these 70cc and 125cc bikes because these are durable products. On stands of features, these are integrating into three types named (MR, Dabang and Boom). For the current year, Metro Bike 2019 Price in Pakistan has unfolded. Probably, the rates are rising up as compared to the last one, but some advance specs and new graphic will add to it that improve its performance and also makes its performance good one. You will like its indicators; they are stylish and available in the orange color. It has an advanced feature of a digital velocimeter.
This can tell you about the speed and to RPM as well. Its first time that such meter will add, they also give an accurate reading.
 In below examine the details, these have not only styles and grace but they too carry the best features in them.
Metro Bike 2019 Price in Pakistan
"70cc Bikes"
Metro Boom:
In this company tries to make sure the engine performance that why they introduce the latest technology Euro 2. Moreover, for the displacement capacity, it's a 4 stroke and 70 cc motorbike.
Meanwhile, it comes with a wet sump. It has a single cylinder and it has two valves and also an air-cooled engine.
Its transmission system has a four-speed that must improve its petrol consumption capacity.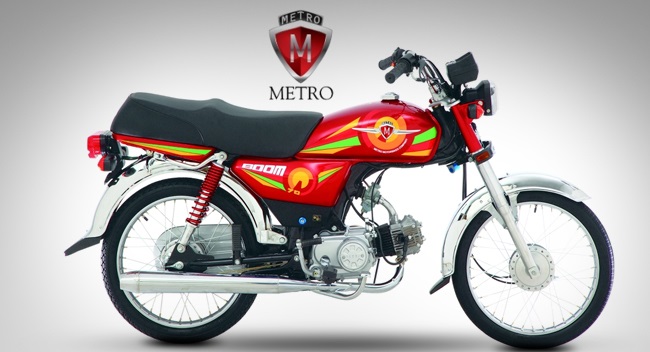 Colors: One has two options of shades in it that are Black and Red.
Metro MR Jeet:

It comes with the latest kind of CDi system, along with this it has been powered by this four-stroke OHC system.
Its torque and also horsepower is 70 CC. It can actually store and consume in it 9 liters of petrol. It weighs almost an about 82kg.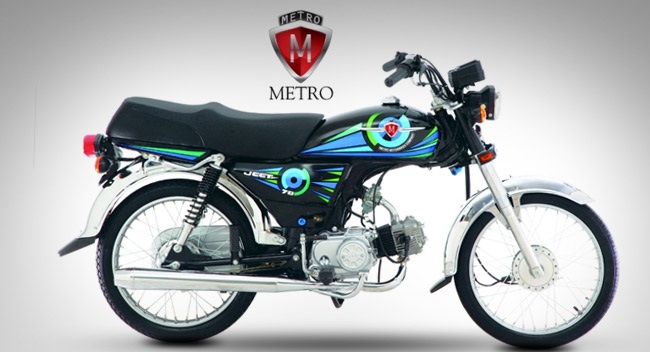 Price: 40,000/-
Metro Motorcycle 2019 Model Price in Pakistan:
Dabang:
This is more advance motorcycle of this company because it's equipped with all kind of features. Its speedometer is looking exactly like car one. Meanwhile, its transmission system is also advance than other ones.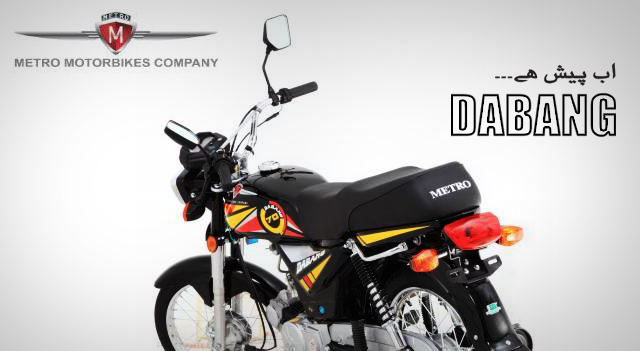 "125CC"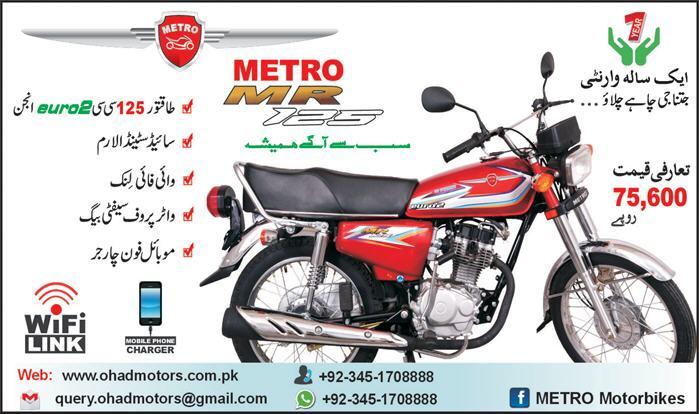 Metro MR 125:
Surely one likes its multicolored graphics, with its one of the economical bikes by far in this type of engine.
Price: 75600/-
The company all increase colors range in it, one can have it in the red or blue or in the black color. Among this blue is the rare one, hope so one must like it. This is the second year of its launching, that why its cost is a quite low one.