As the Muslims Fast in the Holy Month of Ramadan and purify themselves spiritually and bodily but on the other hand they are excited for the arrival of Eid ul Fitr. Every Muslim arranges many interesting ideas for making his or her Eid even more special and memorable. Children prepare themselves to get rich by getting money as a gift from their elders and parents on the Eid day. Apart from all such happiness the events of Eid are the real source of pleasure for the women. They decorate themselves with dazzling Eid dresses and beautiful bangles and Churriyan. The night on which the Eid moon announcement is proclaimed is known as Chand Raat. This night is especially specified for the women because they throughout the night decorate their hands and feet with striking designs of Mehndi. The Chand Raat is said to be imperfect without the bangles and Mehndi so all the girls gather up with their relatives and went out for making the arrangements for the Eid day. All the Muslims get united in each others happiness and smiles during this day and all the worries and tensions are left behind. This day also gives the message of strength, unity and brotherhood among the Muslims that truly reflects during the Chand Raat.
Click here to find Chand Raat SMS Shayari, Poetry, Wishes 2014
Chand Raat Celebration In Pakistan For Eid Festival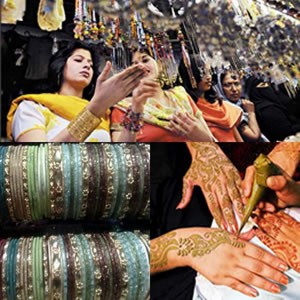 Chand Raat Celebration In Pakistan For Eid Festival are given there..
Click here to find Eid mubarak Sms Messages,Quotes,Wishes 2014
Additionally, during the Chand Raat women also get the chance to cook different types of dishes from which they have stopped themselves during the Ramadan. Moreover, they also get the utmost chance to engage their husbands into the cooking as they get the reason of having Mehndi on their hands. Chand Raat is extremely celebrated excitedly in Lahore. The whole city embellished with colorful lights and the city remains crowded the whole night that definitely reflects the arrival of Eid. On the Chand Raat the most attractive thing is the last minute shopping on the stores that often fill up the stores with people. After getting free from the shopping women also get themselves prepared with varieties of dishes that are to be arranged for the relatives. Click here to find Eid ul Fitr 2014 in Pakistan, Saudi Arabia date On the whole it is just the happenings of Chand Raat that showcase the real smiles on people faces. It allows them to get even closer to each other and showcase their true love towards one another. This event highlights love, care, and feeling of affection towards each other that is no longer shown in the events of any other celebrations.