You need to make your dining room a spic and span looking one so how can you achieve this target? To give your dining area a flawless look, take help from these catchy ideas. You should design this room in such a way that it automatically look a welcoming one and perfect place to be for a gathering! Examine these decoration ideas that are best for Pakistani dining room in 2018, with some latest design of the table that plays a major contribution to its decor. This room of yours should look an entertaining one. Make this room as much gorgeous as you can. You can put up a wallpaper, it will add a fresh breath to your room. By hanging a pair of lanterns, it is not a bad idea even. But keep in mind that never try too many things, because sometimes they look over.
Ideas:
You can go for the Vintage theme then why not putting up a tulip table in the center of this room! You can even have around the vintage table on the windowed wall. Try putting u vintage e dining chairs too.
In this room, curtains matter a lot! It is better if you will have the floral curtains. These floral curtains are the all-time favorite and recommended prints by the experts. You can place pottery items in front of that curtains.
To give a dramatic look to this dining hall area of yours, you can put up a jungle wallpaper. To come up with a formal look, you can make your dining area to look more rusticity and refine looking.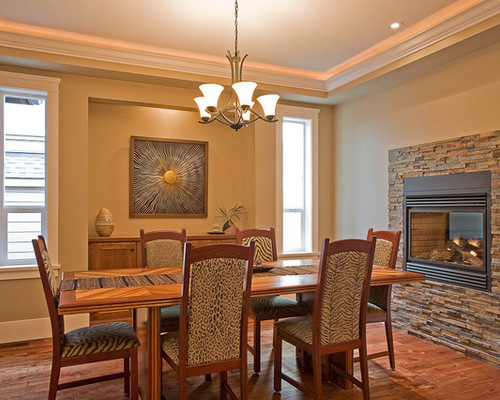 Table Design Ideas:
You can get a custom to look plank table for this room that can accommodate 14 guests on this table. Always buy an Aesthetic looking dining chair and they should be covered with the hair-on-hide leather.
You can bring a life into this area by featuring some of the pretty prints on your rugs and also on your windows. Get the Block printed dhurrie rugs for this room.
To come up with a textured look, you can place some casual woven chairs, wooden farmhouse table. Give some touches of greenery, all of these items and elements will for sure add plenty and bunch of eye-catching texture to your room.
It is the time to transform your dining room. You can give it a dramatic or vintage look, give it a formal or a casual look, experiment with your ideas and make your dining area to stand out! So it's your choice that which type of thing will like more.