A CV is the most used and important document while seeking a job, so for a proper piece of written an extra effort is required. A good CV must be wisely written and must be specifically written for the nature of the job you are going to apply. This is basically a report on one's life, therefore, it holds all the basic and necessary information about the applicant such as academic records and work experience so that the recruiter get all complete information about the applicant at just one glance. An effective document must be concise. Every time update your information according to the nature of the job and highlight all the necessary characteristics that were demanded to hire. Don't too much amplify your skills and don't underestimate your capabilities.
For all those who are looking for a proper job application in pdf form as well, one can write it in MS Word with the latest format that is work in Pakistan.During 2018 with new sample design option is also available for download. With this entire how to write a successful CV with complete writing, tips are also in below section of this article.CV should be effectively written so that it draws the attention of applicant towards the recruiter that the applicant is a right person for the post and should call the applicant for an interview. Hence avoid all unnecessary features.
Everything should be clear and readable and your given information should not be conflicting. Thus it must include applicant's personal information, academic record, work experience and language skills. If someone wants to give a brief introduction of him/her then mention it at the start of this document but within few lines.
Sample Design Download Format in PDF MS Word: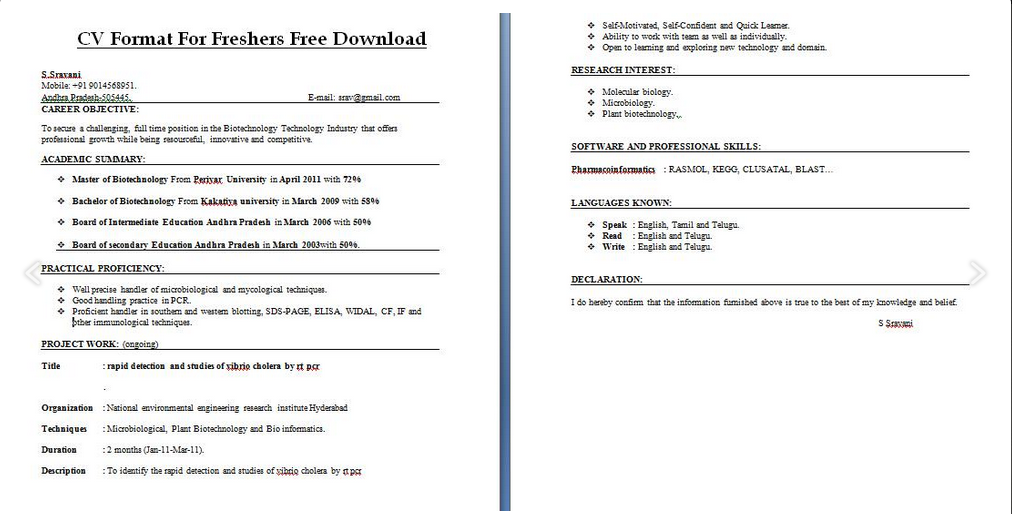 Several key points are discussed in below that need to be considered for writing a good CV.
Mention your personal information such as name, residential address, contact number and email address. Include your photograph if required otherwise, there is no need.
Write recent achievements first before writing employment history and academic record.
Its length must be according to your work experience. If you have several experiences in a variety of fields that you can write a long document.
Keep your writing clear, direct and focused. Avoid using jargons too.
Try to write as precise as possible and avoid guff material. You can write details in cover letters and in application form but avoid here.
Usage of words should be well developed and well organized.
Avoid discussing your social life except for your mentioned activities and important skills like teamwork or leadership.
Mention the contact address of at least two referees, among these two ones, should be you the current owner.
After writing, proofread your document for spellings, grammar errors and for punctuation as unprofessional applying documents are also get rejected.
This tip that how to write CV must work for all job supplication in pdf form. We also try to update the latest format that is suitable for Pakistan at MS Word in 2018. Sample designs are also soon available for download. Hopefully this all information must help one to complete the best resume.