Have you started taking fun from Warid hafta muft offer? Well if not then you are probably making the biggest mistake. Warid has been highlighted as one of the top famous and leading cellular networks in Pakistan. This network has made its recognized place amongst the young generations. Each time moment this network has arrived with such fascinating and interesting offers for its customers that drive them crazy. Well this time Warid has yet again decided to make their customer extra mad because they have arrived with their electrifying Hafta Muft Offer. This offer has been designed for all the prepaid customers. Through this interesting offer all the Warid customers will be getting the chance to grab one free week usage month for the next 6 months.
Warid Hafta Muft Offer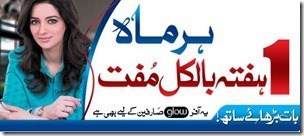 MAIN FACTS ABOUT HAFTA MUFT OFFER:
All those lucky Warid customers who have not make the use of their Warid SIM since 31st January; they can take benefit from this offer.
There are no additional steps to get subscribe with this offer. As soon as the Warid customers will enter the SIM into their mobiles they will immediately get activated with this offer.
If the Warid customers want to get free calling minutes for five weeks then they must have to make use of their Warid connection with the calls for maximum four weeks.
These five weeks of free minutes will be 25% of the minutes that have been availed in four weeks.
Free minutes can just be utilized for 30 days of time limit.
This offer is also opened for the Warid Glow Customers as well.
TERMS AND CONDITIONS:
Free minutes can just be sued on Warid to Warid numbers.
All the free minutes can be used for 30 days of time period.
If the Warid customers have not make the use of Warid SIM since 31st January, they can take fun from this offer.
All the given free minutes would just be counted after using the Warid connection for four weeks. After four weeks the free minutes will be added in your account.
At the end we would say that all the Warid customers don't forget to take pleasure from this offer because we are sure that it would be much excited for you. Just start using your Warid SIM now before the dates get closed. USE IT NOW…..