Are you expecting some special guests for formal dinner and want to have every thing more than perfect?? You do not have to worry at all. Formal table setting for dinner in Pakistan is not that complicated and difficult. So, for all the Pakistani ladies out there, here is a complete guide for you that will surely help in decorating dinning table for formal dinner in owner of your worthy guest. But initially, Make a list of needed crockery: The first thin is to consider is your menu that will help in making a check list of crockery and cutlery required. You have to place the plates and bowls accordingly consider the whether you are serving salad or soup as starters or there is some other thing as appetizer. The main course is mostly Pakistani for local guests. But the trend of having Chinese or continental dishes for Pakistani dinners, is also being adopted.
Generally speaking, the items you need for table setting are soup bowls, deep plates, dinner plates, salad plates, glass, napkins, table spoons, table forks, table knives, soup spoons and dessert spoons.
The formal arrangement of things:
Now you have a list of the thing required for table setting. Start setting the table but you has to keep in minds that do not staff the table with all the crockery you have because it will look messy and clumsy. You should keep it simple and elegant. Follow the formal placing of things mentioned below.
Place the dinner plates in front of chairs.
Place the table fork on the left side of the plate and if the small fork is to be used for the salad being served first. It should be placed on left side of the table fork. If this folk is to be used after dinner, place it at the right of the table fork.
Place the knife at the right side of the dinner plate and the blade towards the plate to use the outside in.
Position spoons at the right side of the knife to use outside in.
Take dessert spoon and folk horizontally above the dinner plate. The spoon facing the right goes above with the handle and the folk below the spoon with its handle facing the left.
Place glass right above the spoon and knife.
Put the folded napkin on the centre of the dinner plate.
If you are going to serve tea or coffee after dinner, place the cup and saucer right above the spoon and folk on the table.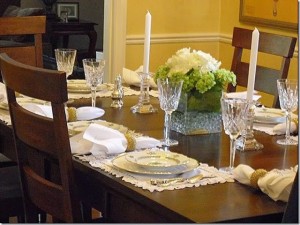 At a touch of elence with a bunch of fresh flowers in a stylish crystal vas place it in the centre on the table. The flower will not only add the color and beauty to your dinning table but also fill the environment with refreshing fragrance. If you don not like flowers place an antique candle stand in the center on the dinning table to enhance the sophist citation of yr formal dinner.