Muslim community is bestowed with one great Islamic tradition festival such as Eid. The word itself means returning festivity or happiness.The best part of this religious obligation is that it brings the state of being happy on all kinds of people beyond the factor that one is rich or poor its cover children's as well youngsters to, while old people, females and males also enjoy this time. A night before beginning of this day celebrations are starting up, peoples starts to wishing each other. From friends to cousin every one tries to send wishes first. For this the people who are aimed to share greetings earlier they wished early moments at this special night. Some special wording of Shayari or Poetry belongings to Chand Raat 2016 are best send through sms.
Basically this nigh is celebrated with in few Islamic especially it cover sub . It is that night when in the morning there is Eid ul Fitr, so the last sunset of Ramadan is Chand Raat. It is a time when Families and relatives are sit to prepare, one can says it a pro  preparation time.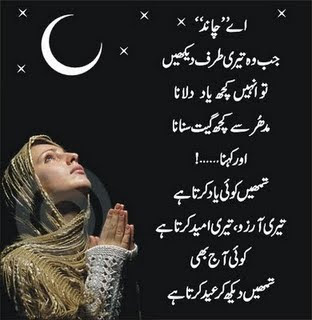 Every one follow own way of enjoyment but majority of peoples prefer for get together. Because in strict routine of life one has not time to sit at one place. So this is best chance when every one wants to get out from worries.
Mean while youngsters spends whole night out side home with friends, while girls also arrange different activities with cousins.
With this number of men and women spends Chand Raat in prayer, they pray for whole nation as security circumstances are going worst.  Because in early life they sees a peaceful country so again they wish that these days again come back and young nation again sees a peaceful country. Pray for all nation that they enjoy these memorable moments. Especially we are facing a interior war in 2016, we kill our own brother on daily bases. So its need to change our inner feelings and for this wishes sharing through SMS with some suitable kind of poetry or Shayari is good. These kind of moments plays a role to get rid of worst things in life.