Poetry is best way to share your experiences, and convey your message in right way. Karbala poetry sms shayari, quotes also have great importance for Muslims. Because this is the most important place for Muslims, with poetry and quotes it's easy to understand the importance of Karbala. If one discussed about Karbala it is the name of Place located in Iraq. When Hazrat imam Husain refused to accept the things of yazid then he wanted to destroy them and their companions, for this they send a thousands of army  against Hazrat Imam Husain (AS) under the leadership of Umer Ibne Sad. They ordered to doing every type of worst things with Imam Husain (AS) and his followers ,until they agreed to follow the yazid . But their patience makes a history and they sacrifices their lives at this palce. Muslims always remembers their sacrifices and they condolence each other with sad quotes.Every year millions of  Muslims come at this place to remember that worst day.
Karbala poetry sms shayari, quotes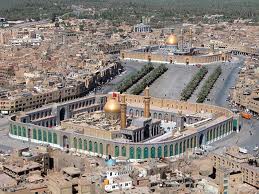 Karbala poetry sms shayari, quotes are given there.
Leta Tamaam Kaam Woh Apne Wali Se Hy
Leta Tamaam Kaam Woh Apne Wali Se Hy
Nisbat Har Aik Imam Ki Noor-e-Jali Se Hay
Kul Akhtiyaar De Diya HASSAN-o-HUSSAIN Ko
Daita Khuda Zaroor Hay Par Milta ALI Say Hay
Andaz-e-Bandagi Hy
Andaz-e-Bandagi Hy
Nirala HUSSAIN A.s Ka
Sajdo'n Me Lajawab Hy
Sajda HUSSAIN A.s ka
Be-daagh Zindagi Ka Yehi
Tou Kamal Hy
Har Shaks Parh Raha Hy
Qaseeda HUSSAIN A.s Ka
Aankhon Ko Koi Khwaab Tou Dikhayi De
Aankhon Ko Koi Khwaab Tou Dikhayi De
Tabeer Me Imam Ka Jalwa Dikhayi De
Aye ! Ibn-E-Murtuza Tere Saamne
Suraj Bhi Ek Chota Sa Zarra Dikhayi De
Karbala Walon Ka Gham Ghar Ghar Main Manaya Jaye Ga
Karbala Walon Ka Gham Ghar Ghar Main Manaya Jaye Ga
Maqsad-E-Shabeer Aalam Ko Bataya Jaye Ga
Yaad Ker K Jo Na Roya Karbala Walon Ki Pyaas
Qabar Se Tishna Wo Mehshar Main Uthaya Jaye Ga