Do you want to search for Shab E barat Ibadat, Prayers, Dua aur Fazeelat and Nawafil. Then this is best place from where you can find few Ibadat, Prayers and dua of Shab E barat 2013. Every year it will come on 15th Night of Shaban. This night is also known as a night of Barkat. On this night Muslim offers Nawafil to take mercy from Almighty Allah. If one sees the Fazeelat of this night then it is one Holly night for all Muslims. This night is declared as the night of mercy, seeking freedom from Azaab, the most important a night on which acceptance chances are too much high. It's a good luck of every Muslim that this night had come in their life. Another important thing is that softness in mercy on evils on that night from GOD had not mean that one make mistakes trough out the year and on that night all evils will remove. Almighty ALLAH forgives those mistakes that are able to remove. True is that acceptance of pray for right purpose is quite high on that night. So must utilize this night and cash a chance that GOD in an Islamic year.
Shab E barat Ibadat, Prayers, Nawafil, Dua or Fazeelat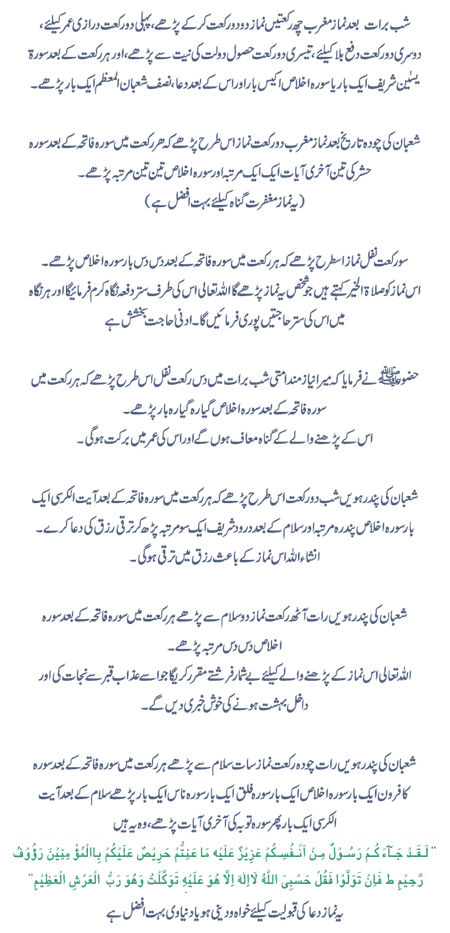 Shab E barat Ibadat, Prayers, Dua or Fazeelat, Nawafil are given there…
If one sees the Ibadat of Shab E barat then Nawafil is a best way on that night. First try to make it possible that you remain in wazu throughout the day and night. On 15th of Shaban must offer at least five time prayers. You can start these Nawafil from Maghreb. After Maghreb namag offer 6 nawafil with 3 salaams after 2 rakat recite surah yaseen once, surah ikhlas 21 times and then recite dua nisf shabaan. On that night continually recite "La Hawla walaa Quwwata illa Billahil-aliyil Azeem" because this is best way for forgiveness. In short you just pray and dua during ibadat and Nawafil on night of Shab E barat 2013.