A car with a luxury outer as well inner look is dream of every user; they demand both of these things in a vehicle. For this a car that full fill their all dreams is only Honda Vezel Hybrid 2018 whose complete review Specifications as well Price in Pakistan is combine at this single place. This car gets fame in very short period of time; its import is starts from couple of years ago. In this short period of time it lies among top selling car in his category. The reason behind the attraction of car user is only the perfection that adds in this car. Secondly as energy crisis in Pakistan is going high such kind of vehicle is demand of an intelligent car user. It is a hybrid car that is really powerful vehicle and lies in 4WD category. One can enjoy a smooth and powerful drive at this car that also looks like a jeep. Equipped with all latest technology this car is best to buy in the price range.
Honda Vezel Hybrid 2018 Price in Pakistan: Till Not Revealed
 Fresh Import Car Price: 35 Lac
" Vezel Hybrid Specifications"
Fuel Consumption:
Fuel consumption of this car is just excellent, that is 24.2 kilometer per Liter.
Exterior:
Starts from exterior body then its look is really sharp, edges of body is attached in such a way that they gives a marvelous look. This sharp look makes this car too much attractive then all the cars that are in its competition.
Front lights are also excellent in look, they sees that small led lights are in attach in frame of headlights.
Interior:
Going towards the interior of this car then from inside again it's a luxury car, all soft material is used inside that makes it really comfortable.
High quality Led lights are used in all inner lamps, that must look good when On in night.
Moving towards the seats and starts from front seats then as given above that as soft material is used so really they are comfortable. Whole console box that lies in between the front two seats is also has multiple box and space for drink and other things that one need to use in traveling.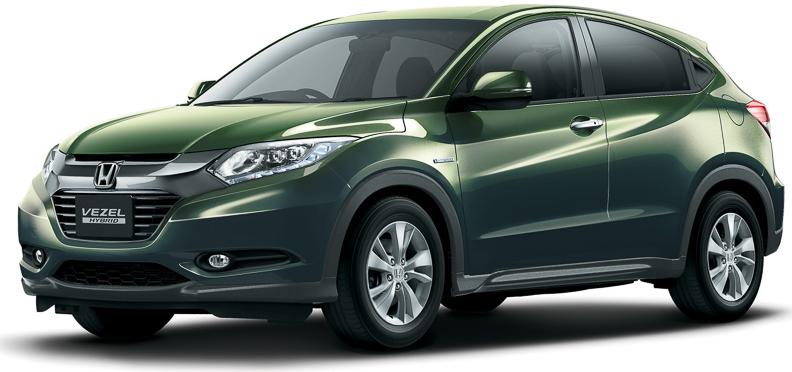 Moving towards the back seats then their length is enough that one moves legs comfortably, for back passenger this is major problem that is solve in back seats. This all review of specifications shows that Honda Vezel Hybrid 2018 Price in Pakistan is not too much high if one checks its features. This is one best automobile of this country.