Food is the energy providing fuel for the body that gives the needed proteins, vitamins, carbohydrates and minerals that help in the growth of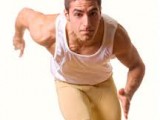 your body. The steady and balanced diet makes you healthy and fit but you take the improper diet and on odd times, the same food will have unhealthy and damaging effects on your body. It will retain fats and fail to produce new muscles in your body. The common belief about weigh lose, to starve and eat the least amount of food even after hunger attack, is medically proved se and wrong. The major initiative you have to take regarding weight lose and gain muscles is to put behind the traditional concept of dieting that is largely based on calorie restricting diets or 3 big meals a day.
What you to do lose weight and gain muscle is having 6 to 7 meals per day with a gap of 2 to 3 hours. But these 6 meals are not at all heavy. You can have very light diet for instance take a grilled chicken breast and a baked potato in one meal. This is a perfect diet with balanced protein and carbohydrate ratio. Having 6 small meals a day will benefit you in many ways such as it boosts up the metabolism, increase the energy level and most importantly it helps you to build and maintain muscles.
You should include proteins, carbohydrates, vegetables and fruits in your diet to lose weight and gain muscle. Here we have given you the list of the food choices that you can make for this purpose.
Protein: whole eggs, chicken, fish, lean steak , tuna, salmon and lean ham.
Carbohydrates: beans, oatmeal, sweet potato, wild rice, wheat pasta and brown rice.
Vegetables: spinach, string beans, egg plant, peppers, cucumbers, lettuce, broccoli and snow peas.
Fruit: you can eat any of your favorite fruit but it has to be fresh and season. Do not eat canned fruit because it is fattening with high amount of calories.
You just have to forget the difficult and tedious counting of calories which is impossible for an average person. If you eating any of the above recommended proteins, carbohydrates, vegetables and fruit, eat as much as you want. Your full satisfaction is the most important thing because it will inevitable for a long time adoption of this diet plan otherwise you will stop following it very soon. If you will succeed in adding this diet plan in your life style, you will certainly lose weight, gain muscles and above all will remain healthy. Don't forget to drink a lot of water everyday.