Now women in Pakistan are also conscious about their health, especially the women who live in cities are more caring with their fitness. As population is going high they is suitable place on public ground is left where they had done work at their fitness. In this case gym is only option left to exercise to keep fit and active. Here we try to target Karachi city ladies gym in its major areas named Gulshan Iqbal North Nazimabad Gulistan-e-Jauhar. Before a time ago minimum numbers of gyms are in these areas and there are not equipped with advance technology. Now as time pass and women shows their interest to maintain their health, then number of new gyms are establish in these areas that are fill with advance equipment's. While trainers are also available in all of these gym who are always available to guide; that how to exercise to get best result. In order to get best body shape and reveal stress with healthy life just join, in order to get more info number are also mentioned.
"Gulshan Iqbal"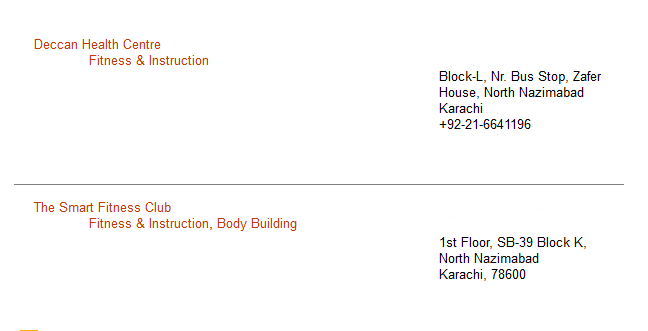 "North Nazimabad"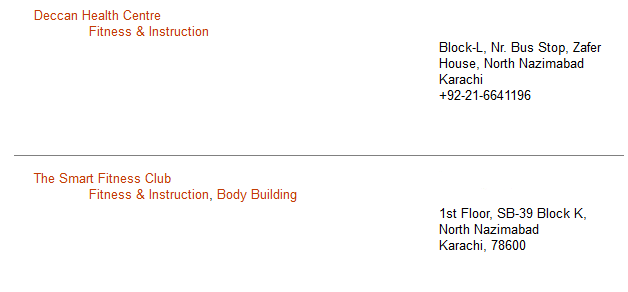 "Gulistan-e-Jauhar"
Address:
It is situate at First floor of Unaid City.
These gym must plays a major role in makes you healthy, because when is becomes fit then automatically he becomes more healthy. These gyms are best for both house wives as well for office women. After a hectic day routine they must get chance to relax, because stress plays a major role in disturbance of health.
Moving towards the dues of these gyms then they varies according to atmosphere, expert trainers, and equipment. The gym that is equipped with all of these best they charge more, because these all things are too much important for ladies gym. In average most of gym charge 1000/Rs rupees in round figure that is not too much difficult to pay.