Child labor in Pakistan has reached to very horrible and terrible scale heights. There is no social security for children of poor and weaker sections of the society. They are subject to various types of abuse and exploitation. Their parents are not able to send them to school and bear all their financial expenses and for that reason they subject them to get controlled over the labor categories. They are forced to work in mills, companies, factories, firms, farms and houses. In Pakistan, it has been discovered with the survey that almost 60 to 70 million of the children in Pakistan are employed in various sectors of industries and labor. They are no social awareness and no social accountability that would teach them they are doing wrong with their children future and their innocent childhood.
Child Labor In Pakistan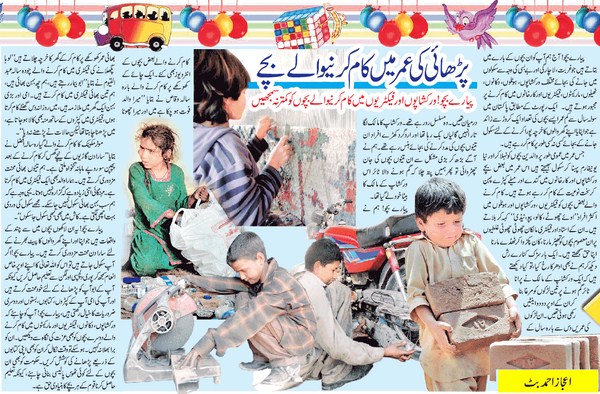 ILLITERATE PARENTS:
One of the main causes for such a huge child labor is that the parents of all such children are not much educated with the knowledge that how much education is important for any child. As they open their eyes during the birth they are making aware from the unbearable truth that they will never see the face of schools and books and they have spent their entire life hood in farms and factories.
CARELESSNESS OF GOVERNMENT:
In addition, the Government of Pakistan has complete failed in taking some successive measures for controlling the child labor and even expanding the education in the whole of the country. They are not even keen interested to allocate the funds and resources for uplifting the education and training masses.
CONTROL OF FEUDAL SYSTEM:
Moreover, the feudal system that is famously known as "Jagirdari" should bring to an end as early as possible. These landlords have no right to decide the future of any child and take them away from the education. They are simply moving all the farmers and their children as backward from the education.
Well there have been many countries that are presently successful and ruling over the education universe just because they give all their attention in spreading the knowledge and education in their world. But Pakistan is not taking any measures. We would like to say one thing that still nothing has went wrong! We can still control the child labor by establishing the schools and educational centers in small regions and villages. If we make any delay and negligence then no one can stop this country to fall back in the education universe.