It's observed again that people are coming back to Nokia Phones. The best example of this trend is the high search for Nokia 103 price in Pakistan 2023 but few buyers face issues regarding its original and china copy. Although this mobile is offered at such a cheap price the other factors are kept in mind by the company. Nokia 103 has a new powerful battery that can provide a talk time of 12 hours and 25 days standby time, with a stylish scratch-proof cover and a dust-resistant keypad. Chinese phone companies bring Nokia to a point where they cannot survive without offering a cheap mobile to the market so they launch it.
Nokia 103 Price in Pakistan 2023:
A difference in the price of the Nokia 103 at mobile shops is creating uncertainty regarding its actual rate. That also raises confusion about the original and china copy. So, it's the responsibility of the Nokia company they work on it to save their products.
| | |
| --- | --- |
| Nokia 103 Original Phone Price | Nokia 103 China Copy Price |
| About 2300 to 2600 Rupees | About 1000 to 1500 Rupees |
This Nokia 103 is fundamentally designed for those people who find it difficult to afford a Nokia phone so they go for any other company like China mobiles because the mobile phone now becomes a need for everyone.
Some other features that are included in Nokia 103 are powerful front torchlight, a quality Fm radio transmitter, a speaking clock, MP3-grade ringtones, and standard games.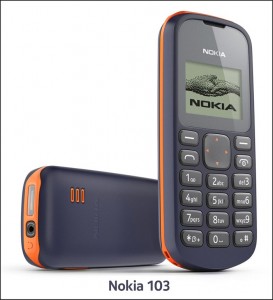 In past, Nokia representatives for Pakistan and Afghanistan were told that out of 7 billion people in the world, 3.2 billion do not have a mobile phone yet and the perfect and most appropriate reason is the economical factors Nokia is trying its level best to decrease the entry barriers for that market.
Nokia 103 is that's why designed for the target market who are more price-conscious so the lowest mobile phone offered by Nokia to the Pakistani people in really the cheapest option. An interesting fact is that after so many years, users remember it. While it's also good in usage.