Nokia has now introduced new Nokia 103 in whole Pakistan, It is the cheapest mobile phone ever by Nokia. Nokia 103 is available in just Rs.1500 in Pakistan, Although this mobile is offered in such a cheap price but the other factors are kept in mind by the company, Like Nokia 103 has a new powerful battery which can provide a talk time of 11 hours and 27 days stand-by time, with a stylish scratch proof cover and a dust resistant keypad. Chinese phones companies bring Nokia at a point where they cannot survive without offering a cheap mobile to the Pakistani market so they launch Nokia 103.
 Nokia 103 for Rs. 1500 In Pakistan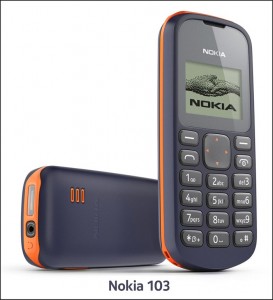 This Nokia 103 is specially designed for those people who find it difficult to afford a Nokia phone so they go for any other company like China mobiles because mobile phone is now become a need for every one. Some other features that are included in Nokia 103 are powerful front torch-light, Fm radio transmitter, a speaking clock, MP3 grade ringtones and the standard games.
Nokia representative for Pakistan and Afghanistan said that out of 7 billion people of the world, 3.2 billions do not have a mobile phone yet and the perfect and most appropriate reason is the economical factors and Nokia is trying its level best to decrease the entry barriers for that market.
Nokia 103 is that's why designed for that target market who are more price conscious so a lowest mobile phone was offered by the Nokia to the Pakistani people in just 1500 PKR.