The final stats of the Census shows that the Population of Pakistan 2021 is increasing day by day. So, to stop adding more Millions and Crores, it's necessary to take some controlling step, otherwise, it will create many problems in upcoming years. It is the need of the hour that we should effectively manage this issue; we should be making this community as our asset and not our liability. Very close figures that what can be the population of Pakistan in the new year is disclosing here. It is seen that the usage of contraceptive in Pakistan is much low, that is why the population has been booming day by day. On another side, earning resources are not increasing at the same rate.
Its responsibility to every citizen that he or she will consider this issue. Otherwise, in the future, this will cause many more problems for this country.
Population of Pakistan 2021:
The previous and current stats of the Population of Pakistan 2021 is clear in the below text. So, the need for the current hour is that as a nation we all contribute to controlling it.
Population of Pakistan 2021 in Crores:
The population of Pakistan 2021 in Crores is lying in between (21 to 22) C.
It's further integrated into
Men: 11 Crore
Women: 10 Crore
Apart from this, strength on bases of the area is distinguished as:
Rural: 12 Crore
Urban: 9 Crore
Note: These are approximate figures.
Population of Pakistan 2021 in Millions:
The population of Pakistan 2021 in Millions are in between (210 to 220) M.
Previous Scenario:
Around half-decade ago the approximate population of this country was around 195 Million. At that time, we had the population growth rate stands at 1.5%. If one reviews that the number of Census in Pakistan, the first one was conducted in 1951, and then later in 19 (61, 72, and then in 81, and 98).
It was seen that the every time census was delayed because of political issues. During the starting days of every government, it was supposed to be scheduled. But every time it was delayed.
Finally, on orders of courts, it was held at the start of 2018. And on the bases of its result population of Pakistan has reached to figure of 200 million. It's not sure that these results will affect any political party or not, but its confirm that it's not good for the economy of this country.
Why Population Increases In Pakistan: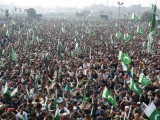 It is because of the desire of the male child, no awareness about the contraceptive measures and also lack of recreational activities that have been making the numbers of the population of Pakistan to come close to millions and also to crores. We do not have resources yet to accommodate such a massive population and because of this giant range of population, we face unemployment, crimes, and many other societal issues.
These are stats about the population of Pakistan 2021 in millions and crores. First, we have to estimate our resources whether we can afford to have such a population. Otherwise, we will suffer a lot, and no one will come afterward for help.