There is no doubt about the fact that the Chief Minister of Punjab Shahbaz Sharif has been one of the hardworking politicians and this time Shahbaz Sharif distribute free "Helmet For All" scheme in Punjab Province. Whether it is all about the Laptop Scheme or Green Tractor project Shahbaz Sharif has all the time arrived with the most beneficial and interesting plans for every single sector of Punjab. On 29th November 2012 Shahbaz Sharif distributed almost 20,000 helmets free of cost or at the rate of rupee one in all the provinces of Punjab. On Thursday morning Shahbaz Sharif carried out a meeting with the Safe Community of Pakistan and Rescue 1122 for creating a sense of responsibility among all the citizens. From the recent few years it has been noted that almost huge number of accidents have taken place just on the motorcycles and the main reason was mainly the non-usage of helmets. In addition, during the festival of Basant the great percentage danger falls on the motorcyclists who drive the vehicles without using the helmets. In such situations it is much urgent for the people to get aware from the need and importance of the helmets and this scheme that has been named as "Helmet For All" is a great step towards the improvement.
Shahbaz Sharif Distribute Free 'Helmet For All' Scheme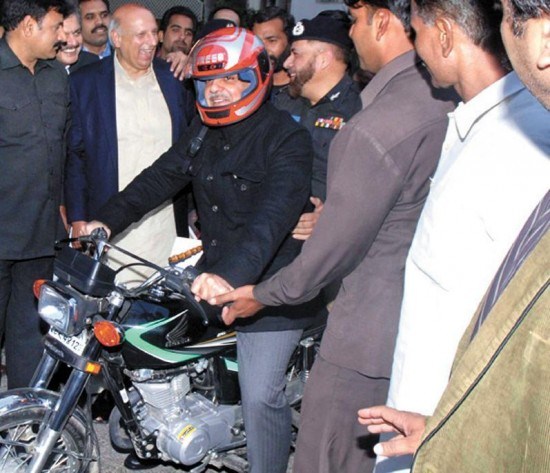 IMPORTANCE OF HELMET FOR ALL PROJECT:
In the commencement of the scheme Chief Minister Shahbaz Sharif addressed with the media in which he stated that wearing the helmet is one of the prominent laws of the nation that is neglecting by the people because they are not restricted for obeying this law. This scheme would definitely arise their main role and duty and even help them from getting saved from the extreme accidents. He distributed all the helmets among the staff members of Rescue 1122 and even handed it to other people as well. Further on, more helmets will be provided and hence this scheme will continue till the citizens don't draw closer with their duty.
On the whole after this detail discussion we would say that just like all other projects of Punjab government this plan is also resting for the advantageous and benefits of the people. We need to get closer for knowing the significance of helmet because this has been the sole ingredient that saves us from any bad accident crisis. We should try to make the habit of wearing the helmets.