Now again Mobilink song launched title as Youn Chalay Kay Balay Balay for the promotion of Mobilink internet. Ali Zafar gives his voice to this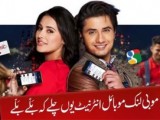 song while performance of Ali Zafar and Nargis Fakhri make it more attractive. Chemistry of both has made them easy for making this marvelous song. Ali Zafar shows his acting talent in Bolly wood from a period of time. While on the other side Nargis Fakhri is one most growing actress in indian film industry. Both get fame from their previous couple of movies. In previous Mobilink add they show their chemistry and so this company further carries on them for their promotional activities. Beauty of this song that through this they convey their message really well so must listen and enjoy it.
Youn Chalay Kay Balay Balay Mobilink Song By Ali Zafar & Nargis Fakhri
Youn Chalay Kay Balay Balay Mobilink Song By Ali Zafar & Nargis Fakhri is given there..
On the other side Mobilink always take care of their customers. They try to full fill the requirements of customers in every aspect. They offer cheap call rates and different sms packages but they are failed to provide beneficial internet offer. So after requirement of users now they work on this thing and offer cheap internet packages. Through this they also give reasonable speed that is enough for its user. Through this song you also familiar to know about further things that include in this package.