This is an ideal entertainment plan where all the latest movies, dramas, and seasons exist. But now its premium where you will firstly take a subscription and then watch full HD Videos. Further, Netflix packages in Pakistan 2023 started from 250 Rupees. Subscription is on the monthly base because if one time you then you will again buy after one month. Moreover, query like how to buy and which platform is best where we can send payment. All associated info about these questions and Netflix Packages in Pakistan 2023 will help those who are connected with it.
Netflix Packages in Pakistan 2023
In country like Pakistan, the user of Netflix is much high as compared to others but now they have announced the packages according to Pakistani Rupees. In addition, the basic package starts from 250 rupees while the full premium HD package is 1100 rupees.
Netflix Subscription Price Pakistan
All the latest subscription package prices released by Netflix and written below people who use Netflix on mobile now can take the lowest price subscription.
| | |
| --- | --- |
| Package Type | Monthly price |
| Mobile | 250 Rupees |
| Basic | 450 Rupees |
| Standard | 800 Rupees |
| Premium | 1100 Rupees |
Mobile Plan
Netflix mobile plan package price is 250 rupees as well after buying this plan you will watch movies on 480P resolution.
You will log in just on Mobile and Tablet.
Basic Plan
The resolution of this package is 720P.
The video quality is good.
You will log in on your phone, tablet, computer, and TV.
Netflix Standard Plan Price in Pakistan:
The basic monthly plan of this package is 800 Rupees.
The resolution of the video under this package is 1080P.
People can log in on Phones, tablets, computers, and TV.
Premium One:
Yes, 1100 Rupees is the price of a premium subscription.
4K+HDR is the resolution of the video under this package.
This package can log in on Phones, tablets, computers, and TV.
Netflix Packages Karachi
People who belong from Karachi city now can get the subscription at the same prices that are mentioned above. In addition, people think about Netflix packages are different in Karachi but that is wrong because they just has one package that is applicable across Pakistan.
"Pic that has all plans too"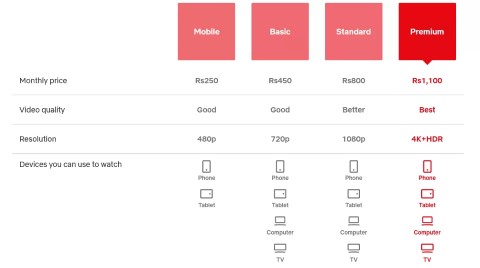 Netflix Packages Lahore
Majority of Lahori people like Netflix because they watch reality shows, and seasons timely available on this app. So, Lahori can take subscriptions easily at the lowest price. Furthermore, all subscription package detail wrote above.
Netflix Plans Pakistan
Netflix offers different packages to people and people can buy according to their needs. In addition, according to the price they give the quality of video and login devices.
The complete Netflix Plan in Pakistan is here.
How to Subscribe Netflix in Pakistan
Everyone looking at how to get Netflix Packages In Pakistan 2023 because people are unaware of Netflix package subscriptions.
At first, open "https://www.netflix.com/signup/planform".
Create an account and then log in.
Then, click on price and plans.
Select the subscription package.
Send payment through credit card, debit card, through postpaid mobile sim.
Your package will activate.
All packages, prices, and subscription plans of Netflix monthly covered with details about resolution, quality, and where people can watch on devices. Before buying, firstly check or review the Netflix packages in Pakistan 2023 and then pick that will suit you better