Details that how to use Telenor 3g free offer is announce through which now one can enjoy free internet and all other 3g services in all those areas where it start work. Telenor 3g service is now start work in major cities of Pakistan. This offer is not limited to only prepaid or postpaid users, all those that use Telenor network sim can enjoy these services. One just need a compatible handset and must available in its coverage area. This is big achievement of Telenor that they finalize this work in just short period of time. All users sees happy and satisfy from this offer especially those who use internet on their phones are greater satisfy from this service. Telenor always tries their level best to satisfy their users and for this they try to update their system. With arrival of every new package or technology they tries their level best to offer it for their users. Now as 3g technology will come they step forward to give it for their users. Further some important things that how to use Telenor 3G free Offer are given in below links.
To know complete Telenor Internet setting on mobile phones and to check areas where 3g service is start CLICK HERE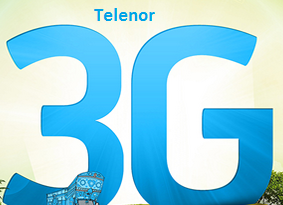 to check Telenor 3g Internet Packages for prepaid Click HERE
According to an unofficial announcement within few days this service will start in whole over the Pakistan. For this whole team works hard and try to give the facility of this fastest internet to all of their users. Hopefully all things come clear in couple of days and this service will start in whole over the Pakistan. With this number of internet users on mobile phones are also increased because due to very slow speed now users avoid to use internet on mobiles. While with this smartphone demand is also going high in Pakistan and every mobile manufacturer company launch some good cheap smartphones are come in market. Moving towards the original issue then it's a great news for all Telenor users that Telenor 3G Free Offer had started and now its need to understand that how to use it and just enjoy this fastest internet speed.