Expected price of Prices of 3G and 4G Packages and services in Pakistan are now come for Zong Ufone Mobilink Jazz and Telenor rates. Till these rates are not confirm and estimate according to rates of different countries. 3G is also called third generation and 4G is also called fourth Generation of cell phone technologies. 3G and 4G is the latest technology in the world. With this new technology people can use high speed of internet on their cell phones in Pakistan. The customers can use these technologies with different price as compare with 2G. All the operators are agreed the bills of 3G and 4Gwill be go up. While the cost for downloading the same amount of data on 3G network will be two or three times greater as compare with 2G technology. It is expecting that 3G and 4G technologies will be expensive in Pakistan. Although with the passage of time and with an expanding the customers base, it is expected that 3G and 4G will be available in cheapest rate and packages in Pakistan.
3G and 4G rates in Dubai that expected to come in Pakistan:
Package                             Price in UAE                                  Price in Pakistan
1 GB data in 3G         100 Dirhams in UAE (Etisalat 3G)     2600 Rupees approximately
5 GB data in 3G         250 Dirhams in UAE (Etisalat 3G)     6600 Rupees approximately
1 GB data in 3G         10 Pound Sterling in UK (Hutchinson 3)       1600 Rupees approximately
While in another neighborhood country these rates are given as below.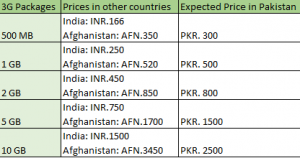 Telecom companies spend heavy amounts to purchase the 3G and 4G license in Pakistan. Those companies will be recovered this money from the pockets of 3G and 4G users. In Pakistan some people have really necessity of these technologies. They are ready to pay heavy amount in order to get 3G and 4G technology. They can start their work done with the help of their mobiles. Instead of these users who cannot pay heavy amount against the technologies and they want to use the 3G and 4G technology in Pakistan. It's a great loss for the government of Pakistan if they are not set the normal price of these technologies. On the other hand with the arrival of 3G and 4G technologies e-commerce, e-learning, e-banking and others e-services will be great benefit to the large scale in Pakistan. Moving towards Prices of 3G and 4G Packages in Pakistan then till exact rate is not come as they are come it will must updates here on this page.