PTCL Evo 3G Nitro Cloud Share Device Price Package Charges SD Card Setting to share and connect with your WIFI device. PTCL is one of the best companies in Pakistan. PTCL is only company which understands the true needs of the people of Pakistan. This company is too much popular among the people of Pakistan due to their best and wide network in all over the Pakistan. This company always bring with the newly and latest devices and offers for the people of Pakistan in very cheapest and affordable price. This latest and newly device is known as "EVO 3G Nitro Cloud Share". Through this device customer can get high internet speed on their mobile and customers can share the data over the Wi-Fi. This device is offer SD card and over the 5 users can connected with each other through this SD card. This device is very attractive and amazing device for those customer whose wants to connect with each other trough internet and user can also download high speed data on your mobile. Customer can storage 32 GB data storage through this micro SD card and connected on your mobile when they can. This EVO 3G Nitro cloud share provides the 9.3 mbps speed in more than 200 cities in all over the Pakistan. You can use this device with their smart phone and this best companion of your smart phone.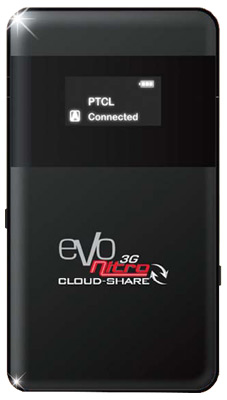 Charges Details:
| | | |
| --- | --- | --- |
| Monthly Charges | Volume | Billing Mode |
| 1,500 | 20 GB | Postpaid |
| 3,000 | 30 GB | Postpaid |
| 3,200 | Unlimited* | Postpaid |
 There are different package provides for the customers according to the customer's needs. This is very wondering offer which is provides by the PTCL and there will be no any extra and hidden chares are applying. There will be charged 19.5% tax will be applying on all packages. This device provides unbeatable and unlimited downloading speed which is not provides by the any other companies. Customers can use this device in all over the Pakistan.