Telenore is one of the best network in all over the Pakistan and the reason of its fame is its very reliable and affordable rates. There are a number of people who use Telenore instead of other networks. Now for the year of 2014 telenor 3g has launched in Pakistan with the help of 3g internet there is nothing which is far from your reach. You can enjoy fast and unbelievable internet speed with the Telenor 3G internet. Here we are providing you all telenor 3g prepaid packages activation code so that you can also get to know about the process of using Telenor 3G internet packages. The Telenor 3g has launched in to the 11 countries under the initiative of the Internet for All to make the mobile internet connectivity accessible to each and every person. But now this service is available Pakistan and its time to break away from the Mundane and invite excitement by using Telenor 3G internet make your life prosper and happy at all. As we are familiar that Telenore is a company which is owned by the Norwegian Telenor groups and it it an international provider of the voice, data, content and mobile communication service in approx 13 markets across the Asia and Europe and they are also having the ownership in the VimpelCom Limited. Telenor group has been noticed as one of the largest mobile operators in the world with around 166 million mobile subscriptions and workforce of 33,000, it has started out his working as a public company in the year of 1855 and now it has become a giant company in all over the world. Current subscribers of Telenore Pakistan are 35.2 millions with the 26% SIM market shares.
Telenor 3G Prepaid Packages Activation Code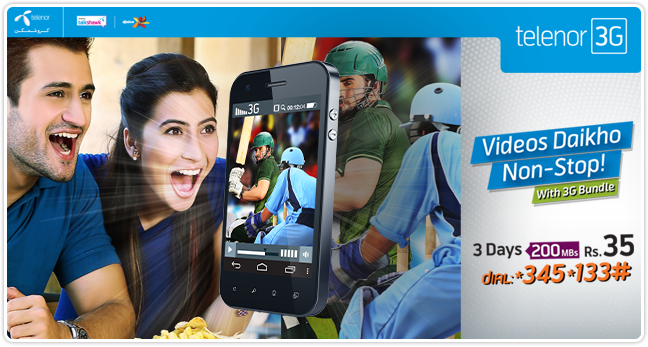 | | | | | |
| --- | --- | --- | --- | --- |
| 3G Bundles | Rupees | Quota (MB's) | Validity  (Days) | Subscription String |
| Daytime Bundle | 8 | 5000 | 1 day (5AM till 5PM) | *345*139# |
| Daily Bundle | 15 | 50 | 1 | *345*131# |
| Daily Plus Bundle | 25 | 100 | 1 | *345*132# |
| 3 Day Bundle | 35 | 200 | 3 | *345*133# |
| Weekly Bundle | 75 | 500 + Free 500MB for Dailymotion | 7 | *345*134# |
| Monthly Bundle | 400 | 3,000 | 30 | *345*135# |
| Monthly Plus Bundle | 1,000 | 8,000 | 30 | *345*136# |
That was the short introduction of the Telenore Pakistan and now we are coming to the Telenore 3g prepaid internet packages in which daily, weekly and Monthly bundles are included. We have also given you the Subscription method of all the bundles and Validity details here for you. With the help of using telenor 3g internet packages in Pakistan you can make video calls to your loved ones in other countries with ease and without having any problem in the internet connection. To get more telenor 3G internet packages details stay in touch with this and get more telenore internet bundles from here.