Here we will discuss PTA ban all telecom inaami schemes. We would like to mention that Pakistan Telecommunication Authority or PTA has recently sent the letter to all the important telecom operators like Warid, Ufone, Mobilink, Zong and Telenor. This letter includes that all telecom operators should stop their announced prize schemes. It was mentioned in the particular letter that all telecom companies should stop their inaami schemes. After this letter if all the Telecom inaami schemes are not stopped then the legal action will be immediately taken against all the Telecom companies. Moreover, PTA announced that all telecom companies should submit their compliance report on 21st March 2013. We would like to mention that it is not the first time that Pakistan Telecommunication Authority sent this type of letter to telecommunication companies. If we talk about last year then in April 2012, a letter or warning was sent to all the telecommunication companies to stop their important inaami schemes. This special action was taken because Pakistan Telecommunication Authority was getting many complaints from the customers regarding their services.
Moreover, Chief Justice of Pakistan while hearing a case regarding the telecom inaami schemes he said that "All prize winning or inaami schemes which promote gambling are against Islamic values". These inaami schemes were classified or divided as misleading or misguided by PTA. In this way, Pakistan Telecommunication Authority gives warning to all the telecom companies that they should stop all the inaami schemes immediately. Apart from this warning letter, we would like to mention that still many offers such as Warid Telecom SMS crore ka and Ufone Shahcar offer are still running. When this letter was issued, the next day Warid and Ufone approached to the Islamabad High Court and they got the stay order against this letter. They further said that it was possible and easy for the telecom companies to stop all inaami schemes quickly and immediately. The reason is that many stakeholders are involved in this project. According to some sources that these telecom companies that there is no type of human element is included during the prize draw. There is no type of fraud involved in the prize draw of these inaami schemes. Lastly, we would like to mention that on 8th March 2013, Islamabad High Court dismissed the petition filed by all telecom companies. Now PTA has again written the letter to all the Telecom companies and they again warn all the companies that they should stop their different inaami schemes. Now we would like to show the letter that was sent by Pakistan Telecommunication Authority to all the telecom operators which is given below.
PTA Ban All Telecom Inaami Schemes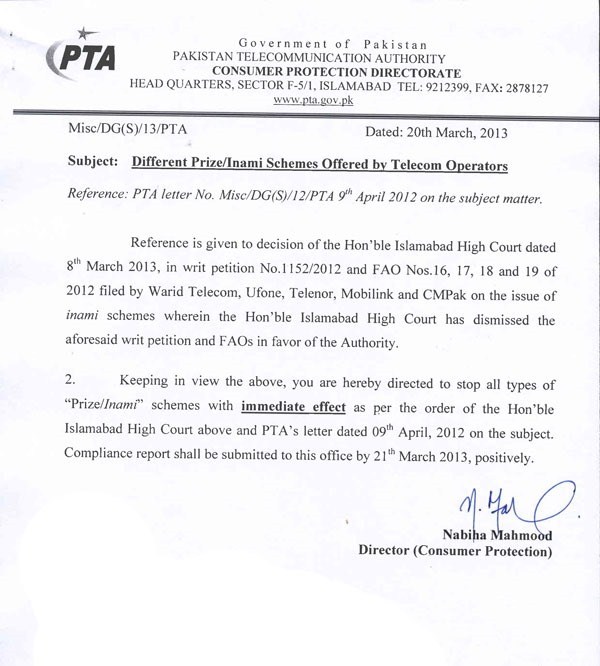 On the whole after discussing the above mentioned discussion that PTA ban all telecom inaami schemes it is easy to conclude that lets see whether telecom companies will stop their inaami schemes or not. Finally, we can say that this letter is considered to be the major warning by PTA to all the telecom companies that they should stop all their inaami schemes immediately.