Ufone has yet again arrived in the people with their most interesting and contended service as Ufone introduces 1 paisa per second call rate for international calls. This has not the very first time that Ufone has highlighted any such service for the first time. There are many other services by Ufone as well that has all the time make the people feel that they can get closer with their far away and departed closed ones. This offer avail the chance to all the users that they can get connected with the far away international friends at just the cost of 1 paisa per second. This offer will be valid for some of the countries adding with Canada, United Kingdom and United States of America. While announcing the offer, Ufone has made it clear for all the customers that this service will even be holding the taxes as well but there are no extra daily charges that will be applied for every call. Once the person has got connected with this offer they are free to make the calls at any instant moment. We are sure that you would surely find it much exciting and much catchy. Here we would like to mention one thing that for United Kingdom this offer has also been made accessible for the landline as well.
Ufone Introduces 1 Paisa Per Second Call Rate For International Calls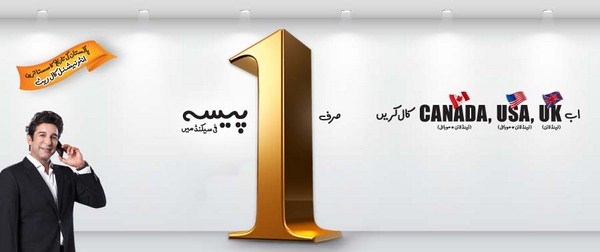 STEPS FOR AVAILING THE OFFER:
If the customers are in the favor of activating this offer they can dial *2288# or they can even send the message as "Sub" to 2288.
The subscription rates of this offer will be Rs. 10 plus tax.
After getting in touch with this offer no other rates will be applied except Rs. 10 in the beginning of the activation.
The calls can just be made within the countries that will be specified within the offer.
According to the Chairman of Ufone this offer has been just highlighted for the easiness of the patrons because this offer will lend them with the opportunity of getting connected with their far away people. This has been the lowest and top finest rates that have been ever offered by any network. On the whole after this detail conversation we would say that all such people who are still far away from their loved ones and relatives they must get connected with this offer now because this will even give you the chance of brining smiles on the faces by making them feel as special.