All the people who are reading this article would have definitely heard that Zong starts branchless banking in Pakistan with Askari Bank. Zong has always highlighted such offers that have all the time granted the people with convenience and easiness. This time Zong has arrived within the market with the launch of their branchless banking in Pakistan. This service has been arranged under the supervision collaboration of Askari Bank. This has been for the first time that any bank has connected with any mobile network. This offer has also been identified as Mobile Banking. Well after Telenor, Zong will be the second such network that will be leading into the banking business and yet this has been the third largest system offer after Easy Paisa and UBL Omni. Yesterday it has been revealed to the media that Zong has even commenced the Pilot project as well that will be undertaking the advertisement and promotion of the service in just two months. This project will even include some of the branchless banking products that will be setting up their items along with the Zong advertisements. Askari Bank has been under controlled by Army Service Center and almost two months back Askari Bank has been honored with the license stand of Branchless Banking.
Zong Start Branchless Banking In Pakistan With Askari Bank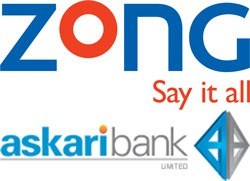 SIGNIFICANCE OF BRANCHLESS BANKING SERVICE:
Well through the launch of this offer it has been greatly expected that Zong mobile network and all the pensioners of Askari Bank will be able to control over their bank accounts through their mobile phones. This offer would be one of the greatest step towards the success of the banking as well. Zong has been the China based company and this has been the first time that any China company has been wholeheartedly involving some other Pakistan bank within their services.
Before the arrival of this offer few days back an advertisement was ruling over the television screens as it would totally a buzz that what this promotional AD has been all about. But now it has been revealed that this advertisement has been all linked with the Zong Branchless Banking offer with Askari Bank. So all the people out there we hope that this piece of article would have served you with great information and we are sure that you will take keen internet in getting connected with this offer because it is much simpler and beneficial for your future.