Pakistan Telecommunication Company Limited is one of the well established and popular communication trademark in Pakistan. Recently PTCL has put forward a grand opportunity for the young students and graduates as a One year paid internship courses that would allow the trainers to get more reliable and sufficient information and details regarding the entire management procedure involved in the working of telecommunication system and its skill enlargement in the market. The Senior Executive President of PTCL Syed Mazhar Hussian has stated that they are providing such chances for allowing the people to pave a path for living a happy and prosperous life in future. This program will surely enhance their working capabilities and bring out many hidden specialized skills and magnitude inside the expert trainers. This program has been especially specified for such students who have undergone with the graduate studies in Finance, HR, Business and Accounting. The main motive of PTCL for putting forward such a unique concept of internship is the way for providing a new platform to the students in communication filed and highlighting them into the industry and stock market areas.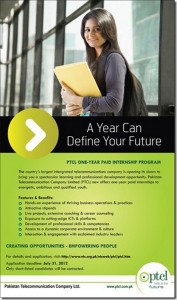 Those students who have the utmost desire to get them enlisted into the PTCL internship program 2013 they can foremost required to get their application forms from the PTCL head office.
Information Technology (IT)

MCS, BCS (Hons), BIT (Hons), BBA-IT

Business Administration

MBA (HR/ Marketing), BBA (Hons)

Finance & Accounting

MBA (Finance), M.Com, B.Com (Hons), ICMA, CA Inter or 16 years equivalent degree/ Qualification in (Accounts/ Finance/ Commerce) fields

Engineers

BE/BS Engineering (Electrical, Electronics, Telecom, Computers)

Diploma Holders

DAE (Electrical, Electronics, Telecom, Computers) or B-Tech

Criteria

Minimum criteria would be CGPA 2.80/70% aggregate for Business, IT Graduates & Engineers
The student's age has been limited until 18-24 years. Whereas the graduates who have completed their education from 2013-2014 are required to get themselves enrolled for the application process. The internship programs have been introduced in different cities of Pakistan. For more additional details about the application forms and information all the students are required to visit www.nts.org.pk and select the specified link of PTCL. This website would make the students well aware from the areas that are offering the internship programs.