One more time in 2018 Warid will offer some best sms packages for their users, which are further separate in daily and weekly bundles. While a monthly bundle is also accessible that has comprised with thousand of messages. This package is for those types of users who use this medium as proper source of communication. While a group of customers used sms for purpose of sending forward messages. For them weekly offer is best one. At same time few of consumers occasionally use this medium; so for them daily bundles is the most appropriate option. Through these packages, Warid cover every type of users. Keep in mind that these offers are different for prepaid and postpaid users. In below total information about these packages from its subscription procedure to total price rates is available.
Extra stuff in this offer is that now social media MBs are also adding up in these packages. Undoubtedly this addition will make their customer more happy.
Warid SMS Packages in 2018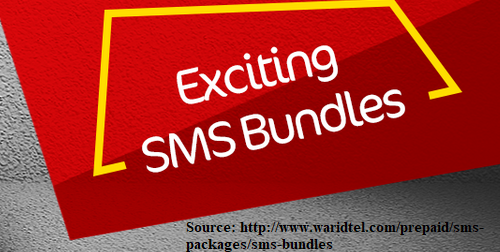 Official will clear that Warid prepaid SMS Packages are dividing in

Daily

Weekly

And Monthly Bundles
Let Begin with:
Daily:
In this offer you can get 1200 SMS on daily bases.
Charges: To avail these bundles "5 Rupees" will detect from your account.
Procedure for its Activation

:

In order to activate this offer you just send

*101*1*01#

.
Deactivation Code for the UN-subscription: In order to de activate this offer of Warid Daily Sms Bundle Offer you just send *101*4*01#. And with in second you will get free from it.
Weekly Bundle:
Through this one can get 1,300 SMS adding up with 25 MBs Whatsapp bundles for seven 7 days' time period.
Process to Activate: Its very simple, as one just need to send *101*1*07#.
 

Charges

:

Only 14 will detect from your account.
Complete Charts that will cover each and every info for Prepaid Users:

Another Chart that contain info about

Postpaid

Users:

Last one is Prepaid Monthly Offer:
From a period of time Warid also try to announce Warid Monthly sms Bundle Offer. Finally in 2018 customer can send Ten Thousand Messages, adding up they can also use 500 MBs Whatsapp bundle in just 50 Rupees. Until now these are best one, because through this one can to charge for one and get other one for free of cost. May be in fore coming days company will add some more numbers in them.