It's a dream of every Muslim that he or she performs Hajj or Umrah, but for this it's also necessary that one must bear its expenses. Now different travel agencies have announced Umrah Packages that are with and without air ticket for 2016. These packages cover almost everything when one is going to perform this duty. According to facilitation and time period rates or prices are going up and down. As one desire to increase the stay time, expenses are going higher. Another factor that plays a role in the rates is standard of hotel and its distance from Holly Places. With this how many people are staying in a hotel. This is further integrated as
Double Bed
Triple Bed
Four or Five Bed
Sharing
We start agencies whose information is also available online. Among them some are working in Karachi, while few are in Lahore, while couples are dealing from Islamabad.
"Al-Saeed Group"
Their head office is in Karachi, but they deal from other two major cities of Pakistan. Their economy package is looking quite in range.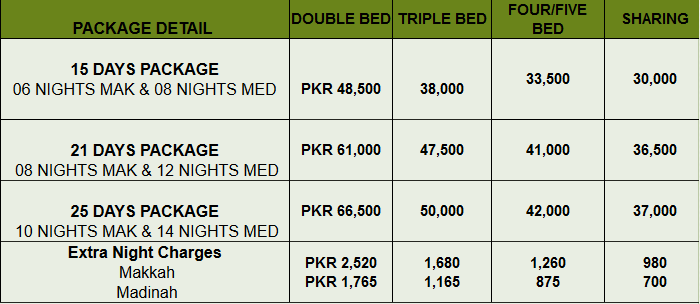 Phone Number: 0345-8260826
Other Contact Number: 0345-8290829
"Travel and Culture Tour Safaris and Hotels"
They are one who gives some special rates for these couple of months. They clearly mention that they are start from first January 2016. Again three packages are dividing as given: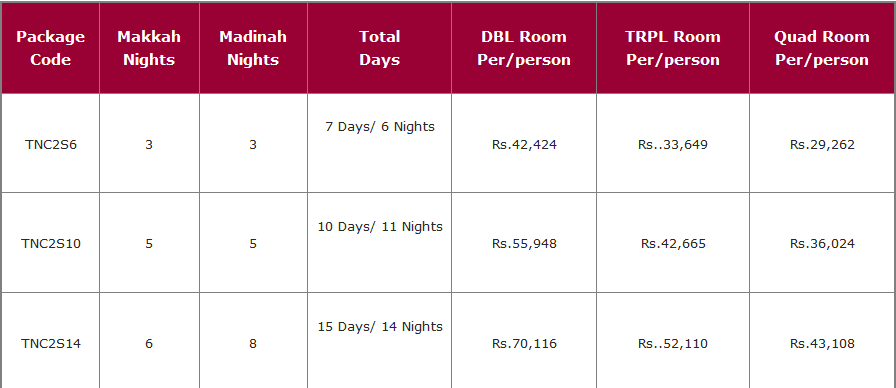 Mobile Number: 0323-2121490
Local Number: 021-35218097
"Askari Travel"
This group claims that they are working under a trust platform of Army Welfare. Again they are offering some special package of Umrah these two months. According to them those candidates who book early are take benefits from these rates.
Mobile Number of Lahore Representative: 0321-2434549
Note 1: These all packages are without air ticket, the ticket rates are charging according to Airline Company. Because they are not announcing one time for whole month so due to variations they are detect according to that day specific rate.
Note 2: This all material is collected online; these rates may be some up or down that are given here. For this it's necessary that one make a call on these numbers. With this these rates are taken from websites of these agencies, so if they has copyright issue they inbox, it must be delete.
Important Note: During these for Umrah 2016 PIA reduce the rates of air ticket. So this must reduce over all packages rate. Must take benefit from it and full fill this important task.
Further one who is going to perform this duty must pray for whole nation. Because in such circumstances our country needs prayer.