Here Are the Punjab Youth Internship Program 2014 Apply Online facility for those students who want an internship through Shehbaz Sharif Youth Employment program. This Internship idea started under the Youth Punjab initiatives and through this initiative 50,000 fresh graduates are able to gain an internship in government offices and also private depends upon there skills and education. This is really a good step to make the curriculum vitae of a fresh graduate more strong by the Chief Minister of Punjab Mian Shahbaz Sharif. Students are the main assets of any country and if these students did not get any opportunity than what will be the result? Can your country make progress? So Under this Punjab Youth Internship Program 2014 about 50,000 students get an opportunity to show the world their skills.
Punjab Youth Internship Program Apply Online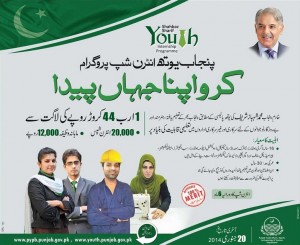 Under this Punjab Youth Internship Program 2014 internee will be paid a monthly 10,000 Rupees and total internship is of 3 months. This internship program is for all those students who have acquired a 16 year of education but there age is not more than 30 years and minimum requirements for a student to apply in this program is graduation from a local, governmental or private institutions. In this Program female are strongly encouraged.
Click on Link Bellow for Registration

Eligibility Criteria In Punjab Youth Internship Program:
From HEC recognized university or college candidate must have completed sixteen years of education degree.
Preference shall be given to those who have completed their degree in the year 2011-12 and 13 onwards.
Age limit would be 30 years.
Candidates must possess domicile of province of the Punjab.